Theatre, cafe and library in Old Town...

Address: Devizes Road, Old Town, Swindon
Phone: 01793 614837
Website: https://swindontheatres.c...
El Moreno
An evening of romantic and exciting Spanish Guitar music.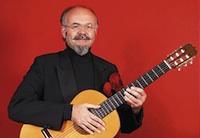 Featuring beautiful solo pieces by the great masters of the past such as 'Granada' and 'Sevilla' by Albeniz, 'La Maja de Goya' by Granados, and the lovely Aranjuez Adagio theme by Rodrigo, as well as fiery music in a flamenco style.
Tickets: £10.00

This performance will take place in the FoSAC Studio.
To book tickets or for any further information on this event, please visit the Arts Centre website via the link below.

Day
Date
Time