Brand-new live music and entertainment venue in Regent Circus...

Address: Regent Circus, Swindon, SN1 1PR
Website: http://www.mecaswindon.co...
Fighting Friends!
White Collar boxing night pits best mates in the ring - THIS FRIDAY - WIN TICKETS!
COMPETITION CLOSED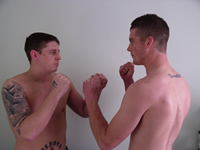 Friends fight night:
MECA - 16 December
In an strange mix of fate and coincidence, two close friends Paul Payne and Gav 'Skarface' Towler-Wilson have been inadvertently matched against each other on the Neilson Promotions white collar show taking place at the M.E.C.A this Friday.
Both fighters had separately agreed to fight on the bill for promoter and matchmaker Mark Neilson, who then went about finding opponents for both of them.
And after the draw was made, it'll be gloves off as Paul and Gav prepare to do battle in the ring.
Mark said "I was comparing records and experience of all of my available fighters and thought these two would make a match so I spoke to both of them individually. Paul had some MMA experience and Gav had boxed in the army so I told them of each other's stat without giving names at that stage and when both agreed, I told Paul Payne his opponents' name.
Win tickets to see this bout and more this Friday at M.E.C.A.
Just answer the simple question below for your chance to win a pair of tickets:
Which of the following is NOT a world heavyweight boxer?
1. Lennox Lewis
2. Muhammad Ali
3. Russel Crowe
Day
Date
Time
Ant & Dec-ked!
TV stars and former world-champs enjoy white collar boxing at MECA - SEE GALLERY

03 May 2012

Festive Knockout!
Boxing day comes early at MECA Swindon - REPORT & GALLERY...

17 December 2011

Knock-out success
White Collar Boxing evening raises money for charity...

19 October 2009