High quality health and fitness classes & services for individuals, groups, schools and businesses...

Address: BSS House, Swindon, SN2 2PJ
Phone: 07732 427882
Website: http://www.bpmactive.co.u...
Fitness & Fun-draising
BPM Active charity fitness & dance marathon helps local good causes
Zumba, Street Dance, Freestyle Aerobics & PumpFX were just some of the exercise classes that helped raise funds for the Prospect Hospice and Swindon Old Town Rotary today.
BPM Active held a charity fitness and dance marathon that featured 26 exercise & dance classes over 13 hours, starting at 8am.
"Thank you to everyone who has joined in," said Ian Baker, fitness director at BPM. "It's been a fantastic, fun day of fitness with some people even trying to take part in every class!"
Entry was £3 per class, £10 for half the day & £15 for a full day with all the money being donated.
BPM Active Fitness & Dance Marathon
17 March 2012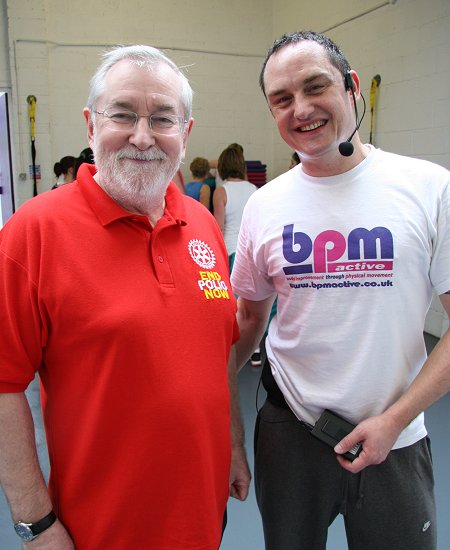 Jan Blankenstein of Swindon Old Town Rotary
with Ian Baker, Fitness Director at BPM Active
For more information, please visit the BPM Active website via the link below.
Day
Date
Time
XTC - FREE WORKOUTS
bpm Sunday exercise classes - no need to book, just turn up! - 07 APR

03 January 2013