Swindon's biggest shopping centre...

Address: The Management Suite, 29a The Plaza, Swindon, SN1 1LF
Phone: 01793 525857
Website: http://www.thebrunel.co.u...
50 Cuts In 50 Hours
UPDATE: 11am Monday 10 September
SWTV grabs a word with Chris Miller, just after he completed his mammoth charity haircut challenge for Tami's Wish (and without coffee!)
50 Cuts in 50 Hours
Big congratulations to Chris Miller, who completed his amazing fundraising effort this morning at 11am.
After 50 hours and 51 cuts (he fitted one more in!) the hairdresser from Old Town put the finishing touches to his final hairstyle before speaking to us at SWTV.
Fittingly, the last person in the chair was Heidi Brown, the younger sister of Tami, who sadly died of cancer in July this year and the reason why Chris took on the challenge.
His non-stop efforts have so far raised over £3,500 for the charity Tami's Wish, which will now go towards helping other sufferers battling cancer.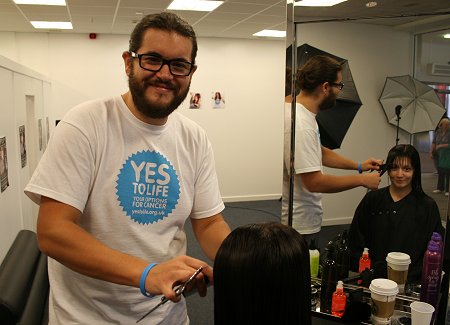 Chris Miller puts the finishing touches to his final hairstyle after 50 hours and 51 cuts in the Brunel shopping centre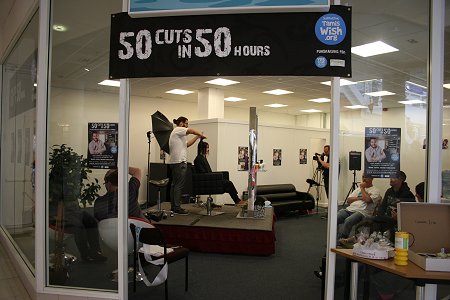 The UKs biggest endurance charity haircut event ever!
By any standards this is fantastic fundraising that's definitely a cut above!
Chris Miller - Style Director at Miller & Holland Hairdressing in Swindonís Old Town - is doing 50 haircuts
BACK TO BACK
over 50 hours in a bid to raise thousands of pounds for Tamiís Wish.
NOW ON - ENDS 11am MONDAY
Tamiís Wish is an organisation set up to continue the work of Tami Brown, a Swindon girl who sadly lost her life to cancer in July 2012.
Tamiís Wish is set to raise thousands for her two nominated charities, Yes to Life and The Prospect Hospice.

The event will be in the first shop (behind Lush) in the entrance of the
Brunel Centre
in Swindonís town centre and will start on the morning of Saturday 08 September at 9am and finish on Monday 10 September at 11am.
BOOK IN AND HELP A GREAT CAUSE
Cuts will be £50 each and can be booked online
HERE - with a few appointsments still available
For more information on the event and to support Tami's Wish, please visit the 50 Cuts In 50 Hours website via the link below.
Day
Date
Time