Swindon's world famous leisure centre...

Address: North Star Avenue, Swindon, SN2 1EP
Phone: 01793 445401
Website: http://www.oasisleisure.c...
Ready To Rumble!
Cox & Royer come face-to-face ahead of this weekend's big Oasis clash
Swindon boxer Jamie Cox looks in top shape for what he describes as 'the biggest fight of my career' tomorrow (Saturday 15 June) night.
The southpaw and former Commonwealth champion takes on Frenchman Matiouze Roser at the Oasis in his first bout since recovering from a horrific hand injury two years ago.
At the weigh-in today at Fratello's restaurant, a confident Cox reiterated his desire for a return to the boxing big time.
"I'm fit. I'm ready. And I know I've still got what he takes," the 24-year-old said, "and this is my first step back."
Swindon boxer to get back in the ring at the Oasis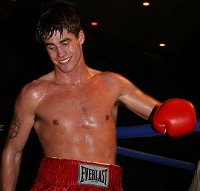 Cox is back in action on 15 June
Swindon middleweight Jamie Cox will make his long-awaited return to professional boxing at the Oasis this summer.
It will be the former Commonwealth gold medallist's first bout since suffering a horror injury to his left hand when beating Obodai Sai to claim the Commonwealth light-middleweight title in September 2011, a belt he was subsequently forced to relinquish.
Now under new manager PJ Rowson, a new trainer and with a new local sponsor, FN Foods, the undefeated Swindon south paw feels his time has come again.

For your chance to win a pair of ringside tickets (normally worth £60 each!) for the fight, just answer the simple question below:
Which medal did Jamie win at the Commonwealth Games?
1. Gold
2. Silver
3. Bronze
Day
Date
Time
Cox Shows What He's Made Of
Swindon-boxer denied world title by George Groves in epic four rounds at Wembley - WATCH VIDEO

15 October 2017

George Groves in Swindon
World Title Contender packs a punch at The Sun in aid of Sebastian Murtough - PHOTOS + SWTV INTERVIEW

01 March 2014

Jamie Cox
Mallory Nicholson speaks to the Swindon boxer on the eve of his return to the ring...

29 May 2013

Cox Comeback
Swindon boxer ready for ring return at Oasis on 15 JUNE - SWTV INTERVIEW + PRESS CONFERENCE

12 April 2013

Ant & Dec-ked!
TV stars and former world-champs enjoy white collar boxing at MECA - SEE GALLERY

03 May 2012

Bam Bam v The Menace
Swindon grudge fight tops the bill at white collar boxing at MECA - WIN VIP TICKETS

Festive Knockout!
Boxing day comes early at MECA Swindon - REPORT & GALLERY...

17 December 2011

Title Fight Tops Bill
Wiltshire boxer Nick Blackwell defends his English middleweight belt at M.E.C.A - 05 MARCH...

17 January 2011

Semi Pro Fight Night
Sean Mulvihill crowned Heavyweight champion of the Neilson Promotions fight night...

13 September 2010

Go on, give it some!
White collar fight night at Liquid & Envy in Swindon - SEE GALLERY...

07 April 2010

Knock-out success
White Collar Boxing evening raises money for charity...

19 October 2009

Fancy some?
We grab a word with boxing legend Nigel Benn in Swindon on fights - and faith.... watch interview...

Ready to rumble
We interview Jamie Cox and Marlon Reid before tomorrow's fight at the Oasis...

Easy win for Cox
KO in the second for Swindon boxer - WATCH VIDEO INTERVIEW....

07 December 2008

Packing a punch
Legendary heavyweights reunite at Swindon sporting dinner...

Jamie Cox
Swindon's gold medal-winning boxing hero...