Greyhound racing every Wednesday and Saturday night...

Address: Abbey Stadium,, Lady Lane,, Blunsdon, Swindon, SN25 4DN
Phone: 01793 721253
Website: http://www.stadiauk.com/s...
Panto Star & Champion Tipster!
That's Keith Chegwin! Who predicted the winner of the Jack & The Bean-stakes race at Swindon Greyhounds in aid of Great Ormond Street
If Keith Chegwin ever thought of giving up acting he should take up tipping winners at Swindon Greyhounds.
Because that's exactly what the star of this year's Wyvern Panto did at a charity race organised tonight at the Abbey Stadium.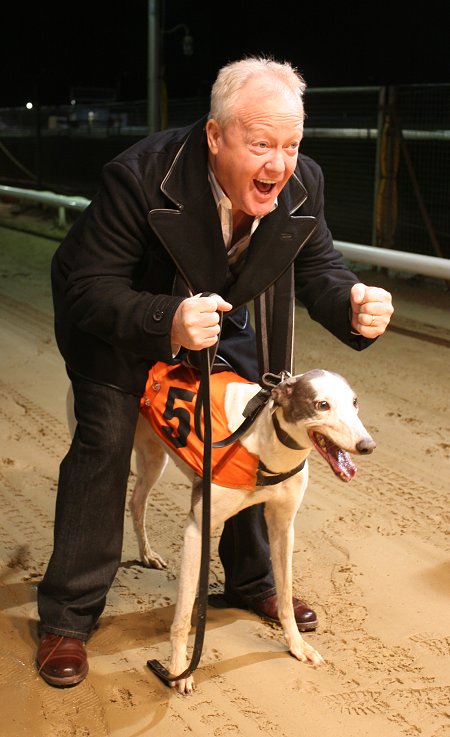 Keith Chegwin with the winner of the Chegger's Chase at Swindon Greyhounds, Cantcatchme
As part of their regular Wednesday night racing, a special 'Chegger's Chase' was organised to raise money for Great Ormond Street Hospital, a chosen charity of HQ Theatres who run the Wyvern.
And who should win? Cheggers's tip, of course!
The dog from Trap 5 with a name suitable for the panto itself - Cantcatchme - romped to victory at 6-1 with Chegwin cheering it on.
"That's incredible!" he told us, "just a shame I didn't have a bet!"
Swindon Panto starts 07 December
Chegwin, who plays Silly Billy in this year's production of Jack & The Beanstalk at the Wyvern, starting on 07 December, was on hand to congratulate the owner of Cantcatchme and present the winning prize.
They were joined on the track by the Panto's other four-legged friend - Daisy The Cow!

For more information please contact Wyvern Theatre via the link below.
Day
Date
Time