Swindon's biggest shopping centre...

Address: The Management Suite, 29a The Plaza, Swindon, SN1 1LF
Phone: 01793 525857
Website: http://www.thebrunel.co.u...
Which Way To The Brunel?!....
Three kings, two camels & a rapping vicar are on their way the day before Christmas Eve!
Christmas in Swindon town centre will be dramatically brought to life on the day before Christmas Eve, when The Brunel Centre will play host to two camels bearing three kings, accompanied by a rapping Vicar.
The three kings, along with Mary and Joseph, will be played by professional actors in costume, who will be interacting with shoppers and giving out chocolate coins to children and adults, before taking to the stage.
The production will last around eight minutes and focus on the Wise Men and their meeting with Mary, Joseph and baby Jesus.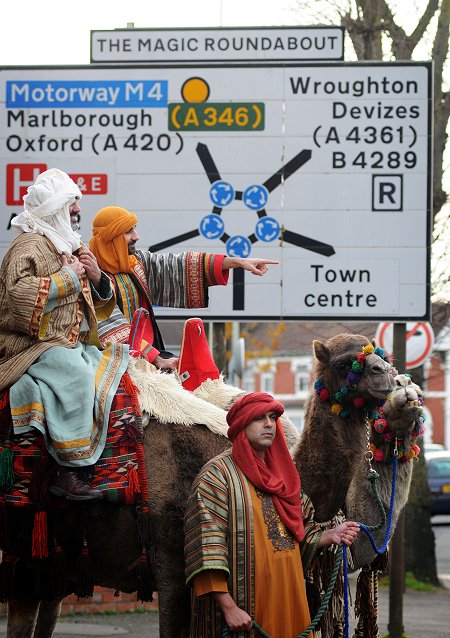 James Burke Dunsmore, who has written the play, says: "The Act of Giving is about faith and courage. The journey of the Wise Men was not easy, but as men of reason and evidence they had to see the new King with their own eyes. Mary and Joseph celebrate the responsibility they have being parents to Jesus, but discover that this may be far more dangerous than they had previously thought".
In between the nativity performances, shoppers will be entertained by YouTube sensation, Devon's Beatbox Vicar, the Reverend Gavin Tyte who will rap the nativity story.
There will also be a big life size picture of the Nativity characters. Adults and children can pop their heads through the face holes and have their photo taken as Mary, Joseph and the Shepherds.
The event is being organised by the Swindon-based Bible Society and the Brunel Centre.
Jane Stewart, Marketing Manager at The Brunel, said: "We've never done anything quite like this before so when Bible Society approached us we thought it was a great idea and a super way of reminding people what Christmas is all about. The Beatbox Vicar will add another dimension to the event and no doubt get people talking!"
Nativity performances will take places on the hour between 11am and 4pm, and Beatbox Vicar will perform on the half-hour between 11.30am and 3.30pm, both on Monday 23rd December 2013.
Performances will last around 10 minutes and will take place in The Brunel Plaza, just inside the entrance on the ground floor.
Throughout the day, the camels will be situated in Canal Walk and shoppers will be able to visit and photograph the animals.
Day
Date
Time