Address: The Link Centre, Whitehill Way,, Westlea,, SN5 7DL
Website: http://www.swindonwildcat...
Ice Hockey Action!
Swindon Wildcats home fixture coming up
All at The Link Centre, West Swindon.
Autumn Trophy
Telford Tigers
League
Guildford Phoenix

Sun 22 Oct 6:15pm
Autumn Trophy
Hull Pirates

Wed 25 Oct 7:45pm
NIHL Cup Swindon
Telford Tigers
Sat 28 Oct 6:15pm
NIHL Cup
Bracknell Bees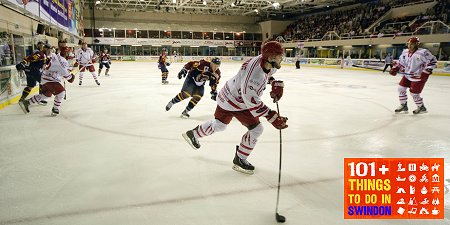 Supporters can purchase tickets online by visiting the Swindon Wildcats website via the link below or by calling their office on 01793 886 857.
The Swindon Wildcats in the Community Team is sponsored by The Brunel Shopping Centre.
Day
Date
Time
SAT
21/10/2017
18:15 - 21:00