Theatre, cafe and library in Old Town...

Address: Devizes Road, Old Town, Swindon
Phone: 01793 614837
Website: https://swindontheatres.c...
Worbey & Farrell - House Party
An entertaining and unique piano act that pushes the boundaries of the instrument.

The Arts Centre
Friday 22 January 2016, 7.30pm
Come and party with Worbey & Farrell where four hands and one piano raise the roof with their hit 2015 Edinburgh show.
They have played with the world's leading symphony orchestras, achieved over a million hits on YouTube and entertained all over the globe with their barnstorming blend of sparky comedy and utterly sensational piano playing.
Expect spectacular arrangements including Tchaikovsky's 1812 Overture, Bach's famous Toccata and Fugue in D minor and Carnival of the Animals. Even Lady Gaga makes an appearance!
This exuberant evening is suitable for every age and all musical tastes. Prepare to be moved, excited and amazed. But above all prepare to laugh with joy at the sheer ingenuity and style of these two masters of musical mayhem.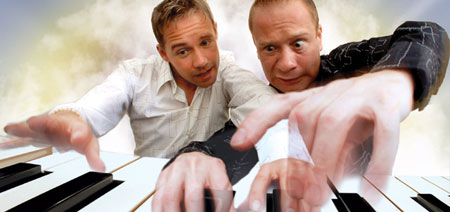 Tickets: £16.00
Day
Date
Time