Meeting place in Swindon town centre, and home of the big screen...

Address: Canal Walk, Swindon, SN1 1LD
Phone: 01793 485 523
Website: http://www.swindontowncen...
Fancy breaking a world record?
The Charging Around the UK Campaign pulls into town with world record attempts - and pizza!
Wharf Green, Swindon City Centre
Friday 20th June 2014, 17.30 - 8.00pm
In the 1960s it was seeing how many people they could fit inside a Mini Cooper, but in the 21st Century everyone's going electric.
And at Wharf Green tomorrow the Charging Around the UK Campaign comes to Swindon, where a Renault ZOE will be on display - plus fun and games.
The highlight of which includes a world record attempt on how many people they can cram into one (which should be entertaining!)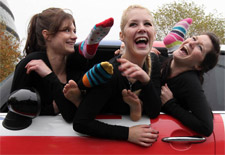 The most people crammed in a
Classic Mini Cooper is 25!
Then there is also a competition to guess how many pizzas are in the Renault ZOE, with the winner receiving a week's worth of free Domino's pizza.

There will also be a prize draw on the day, where the winner will get an Electric Scooter – so there's plenty going on!
Day
Date
Time