Swindon club with dive pool and clubhouse dedicated to promoting fun, safe diving...

Address: Supermarine Road, South Marston, Swindon, SN3 4BZ
Website: http://www.swindive.co.uk
Dive-In with Miranda
Head to Swindon Sub-Aqua club for a talk by TV presenter and wildlife conservationist Miranda Krestovnikoff
Swindon Sub-Aqua Club,
Supermarine Road
Saturday 15 November 2014, 7.30pm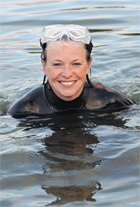 Miranda Krestovnikoff
Miranda Krestovnikoff has a passion for wildlife conservation and the environment. Through her many appearances as a TV and radio presenter, through journalism, books and DVDs, she conveys this passion to a wide audience.
She is also patron to a large number of wildlife and environmental charities. Her love of the outdoors leads her to indulge in sailing, wild swimming, horse riding, camping and cycling, but she is especially keen on UK diving.
She has been described by DIVE magazine as "The highest profile wreck diver in Britain. Miranda represents a new breed of wreck divers - one to whom the idea of removing a porthole would never occur"
In the two-part talk, Miranda will discuss her diving experiences and her work on the popular TV programmes "Coast" and "Wreck Detectives". There will also be a question and answer session and plenty of opportunity to talk to Miranda personally and to purchase signed books and DVDs.
Tickets are £9.00 and admission is via advance ticket purchase only. You can purchase tickets on the link below.
Day
Date
Time