WOMAD Festival
Kelly Jobanputra gives her take on the world famous arts festival
WOMAD 2017, which was the 35th time this festival has run, was officially the most successful ever as over 35,000 people enjoyed more than 200 performances by over 100 artists from nearly 50 countries.
As a mum, my festival experiences are very different than they used to be but the great thing about WOMAD is the fact that it caters for people of all ages and tastes. This is a musical extravaganza event that I know I can go to with my husband and little daughter and everyone is going to have a good time and enjoy what the different cultures have to offer.
It's fantastic news that WOMAD has now just been confirmed to remain at this same Wiltshire site until at least 2030 and if you've never tried this festival which covers music, art, dance, food, literature, science, poetry, relaxation and fairground rides – then you should definitely look into it for next year as it would undoubtedly put a smile on your face.
This event really gives you a taste of the world as so many different styles of performers from around the globe offer you an insight into their way of life through the arts. My six year old daughter constantly asked questions about the different languages she could hear around her and being half Indian and a quarter Polish/quarter English she felt well placed and loved the learning experience which came along with this annual celebration.
It's impossible to sum up how great all of the acts were during the weekend but some highlights for me were Japan's Anchorsong, Lambeth born rapper Loyle Carner (who was accompanied by a sign language interpreter Louise Tingay), the mesmerising Addictive TV: Orchestra of Samples, DJ Joey Negro and the famous reggae stars - Toots and the Maytals.
The world of wellbeing is also a firm favourite of mine as it's a chance to have a massage and unwind with copious cups of tea; there's also something very magical and fairy like about this event at night when it's full of lights in the tall trees. However my daughter's ultimate memory of WOMAD was the World of Children were she got to play with a range of circus toys, make a clay fossil and have her face painted for free. That's heaven to a kid and seeing all of the little happy faces running around that area was a real pleasure and delight.
But it's the atmosphere at WOMAD that always makes me and my family the most content – we lap up the fact that complete strangers always stop to talk to us and everyone seems to be in their happy place. We left on Sunday feeling satisfied, full of the joys of various music and talking excitedly about going again in 2018.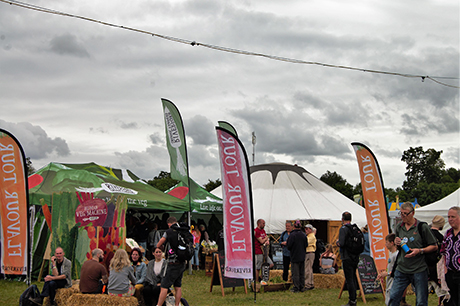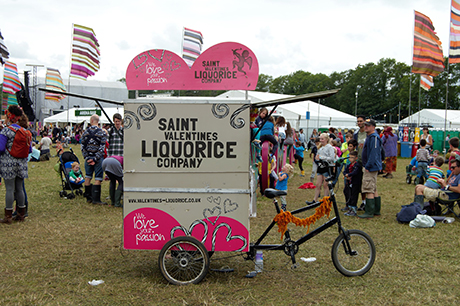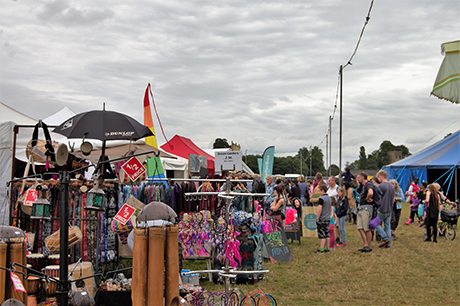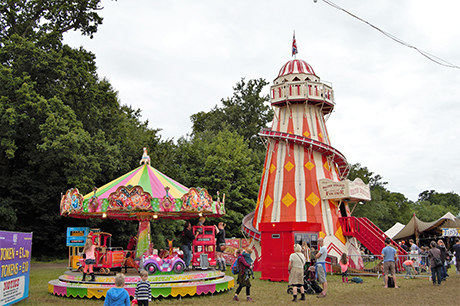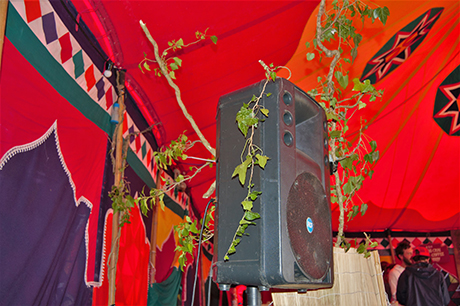 Pictures by Vikesh Jobanputra
Charlton Park, near Malmesbury, Wiltshire
by Kelly Jobanputra
The world famous festival WOMAD, which is coming to Wiltshire in July, is in its 35th year and more fantastic artists have been announced as the line-up.
WOMAD is all about introducing people to music and dance styles from all over the world and every corner of the globe is covered.
Having been for the last seven years to this festival, I can honestly say with hand on heart that this is truly a family event with something for everyone. Children can enjoy music workshops, arts & crafts, a selection of tasty food from around the world and a fairground. The adults can dance the night away until the early hours and enjoy the relaxed atmosphere that this particular festival offers.

However - as well as loving the musical vibes of this event (which is known as the world's festival), I always make a beeline for the massage areas and other alternative therapy tents. You can even go all out and enter the spa that is on site.
In terms of artists who will be performing, people will be sure to love TOOTS AND THE MAYTALS; who will be playing their hits like Kingston, Do The Reggay, Monkey Man, Pressure Drop.
A musical giant will be saluted this year on the 20th anniversary of his death. Fela Kuti was the godfather of Afrobeat, the heady, funk-heavy sound of '70s Nigeria, and celebrating the great man comes a perfectly assembled cast – ROY AYERS, SEUN KUTI AND EGYPT 80. Jazz-funk legend Roy made the brilliant Music Of Many Colors album with Fela back in 1980, while Seun – Fela's youngest son – is the greatest protector of Kuti Sr's legacy. At the age of just 14, he took over his late father's Egypt 80 band and continues to energetically lead them today.

The Cuban singer, flautist and percussionist Yaite Ramos Rodriguez, aka LA DAME BLANCHE will make her WOMAD debut when she brings a musical mix of hip hop, cumbia, dancehall and reggae to the festival.

Ticket prices vary depending on age and how many days you go for, however children of 13 and under are still free (but you will still need a ticket).

And if you still need convincing, here's a list of some more WOMAD delights that will be on offer:
Amsterdam Klezmer Band (The Netherlands)
Hard-blowing seven-piece delivering that spiralling, effervescent klezmer sound.
Trance-inducing collaboration that pitches Cuban melodies with Iranian electronica.
Italian DJ/producer whose Afrocentric creations have snagged ears and set tongues a-wagging. Gilles Peterson and Paul Simon are among his fans.
This wonderfully voiced young diva occupies musical territory that's equidistant between Nina Simone and Celia Cruz.
Hannah Peel & Tubular Brass (UK)
Mike Oldfield's classic Tubular Bells reimagined by electronics wiz Hannah and her brass-blowing pals.
No ordinary gospel choir, this lot. Instead, they set their voices to the uplifting and euphoric sound of classic house tunes.
Ifriqiyya Électrique (Tunisia/France/Italy)
Another ground breaking collaboration finds sufi ritual music from North Africa melding with post-industrial sounds from Europe.
Kate Simko & London Electronic Orchestra (US/UK)
Six-piece strong ensemble led by the American electronics/multi-instrumentalist. One for fans of Steve Reich and Philip Glass.
Lively Mali-set project led by the French musician -M- and which features the likes of Toumani Diabaté and Fatoumata Diawarra.
Mamadou Diabaté' & Percussion Mania (Burkina Faso)
The balafon – the West African xylophone – has few better practitioners than this forward-facing musician from Burkina Faso.
The kanun is a 78-string, zither-like instrument which, in the fast-moving hands of London-based Maya Youssef, is beautifully evocative of her Syrian homeland. (members of)
The Orchestra of Syrian Musicians (Syria)
With civil war displacing Syrian musicians across Europe and beyond, this Africa Express-generated project reunites the country's finest players in an inspiring, goose bump-inducing celebration.
Ever-interesting Glasgow-based psych-folk outfit who've collaborated with Bonnie Prince Billy. Stuart Maconie calls them "so wild, so British, so exciting".
Noureddine Khourchid & the Whirling Dervishes of Damascus (Syria)
A further salute to the music and culture of the beleaguered country – and a dizzying dance display too.
Afro Celt Sound System
(UK) //
Alsarah & the Nubatones
(Sudan//USA) //
Beating Heart
(UK) //
Benjamin Zephaniah and the Revolutionary Minds
(UK) //
Bill Laurence
(UK) //
Bixiga 70
(Brazil) //
Bokanté
(USA//Guadeloupe)//
Bombino
(Niger) //
Bonga
(Angola) //
Chico Trujillo
(Chile) //
Don Kipper
(UK/Greece/Serbia) //
Eliza Carthy and the Wayward Band
(UK) //
Emir Kusturica and The No Smoking Orchestra
(Serbia) //
Ghada Shbeir
(Lebanon) //
Goat
(Sweden) //
Grupo Canalón de Timbiquí
(Colombia) //
Inna de Yard
(Jamaica) //
Jamie Smith's Mabon
(UK) //
Kakatsitsi, The !Gubi Family & Bwiti
(Ghana/Nambia/Gabon) //
Khmer Rouge Survivors
(Cambodia) //
King Ayisoba
(Ghana) //
King Gurcharan Mall and the Dhol Blasters
(India//UK) //
Kuenta I Tambu
(Netherlands) //
Kourelou
(Greece/UK) //
Ladysmith Black Mambazo
(South Africa) //
Las Cafeteras
(USA) //
Leyla McCalla
(USA/Haiti) //
Maarja Nuut
(Estonia) //
Meta Meta
(Brazil) //
Msafiri Zawose
(Tanzania) //
Nomade Orquestra
(Brazil) //
Officina Zoe
(Italy) //
Orchestre Baobab
(Senegal)//
Orkestra Mendoza
(USA) //
Oumou Sangaré
(Mali) //
Parvathy Baul and Somjit Dasgupta
(India) //
Rajab Suleiman and Kithara
(Zanzibar)//
Raquel Tavares
(Portugal) //
Savina Yannatou
(Greece) //
Shobaleader One
(UK) //
Spooky Men's Chorale
(Australia) //
Taiko Meantime
(UK) //
Tanzania Albanism Society
(Tanzania) //
The Nile Project
(Egypt/Ethiopia and more) //
The Ska Vengers
(India) //
Tom Middleton
(UK) //
Trad Attack!
(Estonia) //
Vesevo
(Italy) //
Viguela
(Spain) //
Xaos
(Greece//UK) //
Zhou Family Band
(China)
Day
Date
Time