Swindon's world famous leisure centre...

Address: North Star Avenue, Swindon, SN2 1EP
Phone: 01793 445401
Website: http://www.oasisleisure.c...
Santa comes early to Swindon
The annual Wiltshire Christmas Show 2008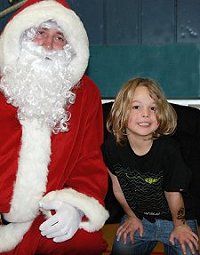 Father Christmas at the Wiltshire
Christmas Show 2008
From crafts to clothing, seasonal food to a fantastic fashion show - hundreds of people from across Swindon turned up to the Wiltshire Christmas Show 2008.
Held at the Oasis leisure centre, this popular annual event provided a unique showcase for top quality crafts and gifts from local artists, craftsmen, designers and small businesses.
And even Father Christmas was on hand to entertain the children from across the town.
"As always the show was a great hit," said Greg Dunningham, organiser of the event.
"Not only does the weekend allows families to start purchasing for Christmas, but there are a variety of activities taking place that all the family can take part in."
Gallery of the Wiltshire Christmas Show

Wiltshire Christmas Show 2008 - 03/11/2008
Day
Date
Time