Bell Hotel, The, Old Town - NOW CLOSED:


THIS PUB IS NOW CLOSED.

Address: 24 High Street, Old Town, Swindon, SN1 3EP
Phone: 01793 480083
Website: http://www.thebellhotelsw...
United Elements of Hip Hop
There was a bank holiday party with a difference at the Bell Hotel in Old Town this weekend.
With hip-hop DJs, breakdancing and barbeque there was definitely a 'street-party' vibe in the air.
Children and adults of all ages stopped by to check out a de-commissioned ambulance getting its new face-lift with an all over graffiti paint job.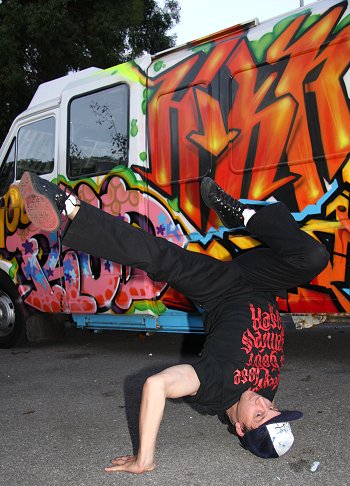 Bboy poses infront of the graffiti'ed ambulance
The all day charity event raised over £100 for the Cancer Research Foundation.
"I can't believe how well today has gone", organiser Matt Cole told us.
"Swindon hasn't seen an event like this for a long time and hopefully we'll be putting on a lot more."
Words and images by Vicki Blatchley

United Elements of Hip Hop - The Bell, Old Town - 24/08/2008
Day
Date
Time