swindonweb.tv® bringing you all of our top stories on video
Swindon Half-Marathon 2008
Picture gallery and video from the weekend's big sporting event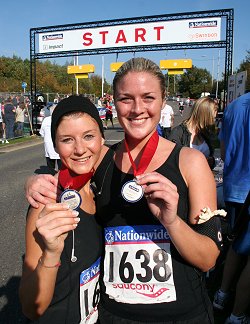 SwindonWeb's Kirsty (l) and Liz
at the finish line after completing
their first half-marathon.
It was hot work for those running in this weekend's Swindon Half-Marathon.
But judging by the smiles at the finishing line - it all seemed worth it for those taking part.
A record number of over 1,800 entered, with the majority tackling the 13.1 mile half-marathon itself, and hundreds of others enjoying the shorter all-terrain course and the 2 mile fun run.
Now in its 5th year the event is considered Swindon's biggest sporting event.
"It's been another brilliant day," said key organiser Michelle Leighton of sponsors Nationwide, supported once again by coverage from BBC Radio Swindon and GWRfm.
Swindon Half-Marathon Gallery

Swindon Half-Marathon - 12/10/2008
Day
Date
Time
Swindon Half-Marathon CANCELLED
2015 looking like the final year after crowd funding falls flat. Only £2,250 raised towards £27K target....

12 September 2016

Swindon Half-Marathon 2014
Well done to everyone who took part in Swindon's biggest sporting event today! - 130+ GALLERY

12 October 2014

Running In the Rain!
Our 150+ gallery from today's Swindon Half-Marathon 13 October 2013 - SEE PICTURES

13 October 2013

Here Come The Girls!
And well done! 150 pics from this weekend's Swindon Race For Life at Lydiard Park - GALLERY

10 June 2012

Well done ladies!
Women of all ages and backgrounds take place in Race for Life 2011 - SEE PICS...

21 July 2011

Race for Life 2010
Annual 5k race around Lydiard Park for women - SEE OUR PICTURE GALLERY...

21 July 2010

Fit for Business
A free event that every Swindon company should get involved in - TONIGHT...