STEAM - Museum of the Great Western Railway:


Museum of the Great Western Railway...

Address: Firefly Avenue, Swindon, SN2 2EY
Phone: 01793 466 646
Website: http://www.steam-museum.o...
swindonweb.tv® bringing you all of our top stories on video
Swindon Railway Festival 2008
60s theme attracts record crowds to STEAM museum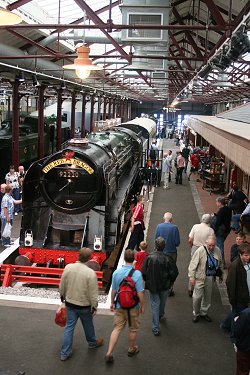 Back where she was built:
Evening Star at the STEAM museum
Evening Star, the last steam engine to be built at the Swindon Works in 1960, took centre stage at the 7th Swindon Railway Festival this weekend.
The 60s theme of the event attracted a record crowd to the STEAM museum, where other highlights included a collection of some of finest GWR model railway layouts ever assembled in one place.
Pop phenomenon and keen railway enthusiast Pete Waterman was also back to sign copies of his new book 'A Train is for Life'.
Here's our gallery.
Swindon Railway Festival Gallery

Swindon Railway Festival 2008 - 13/09/2008
Day
Date
Time
Swindon Railway Festival 2012
Join Pete Waterman and show sponsors Hornby Magazine for the ultimate display of GWR railway layouts - 14 & 15 SEPT

15 September 2012

GWR 175th celebration
STEAM plans year-long programme of events to mark landmark anniversary...

04 January 2010

Starring Role
Evening Star returns to Swindon for Railway Festival...