Swindon's world famous leisure centre...

Address: North Star Avenue, Swindon, SN2 1EP
Phone: 01793 445401
Website: http://www.oasisleisure.c...
Pigeon Detectives
Bowman back to his best at the Oasis
An exuberant, largely teenage crowd, lapped up the Pigeon Detectives in Swindon last night.
The quirky, indie rockers from Leeds provided a typically energetic set, with their curly-haired frontman Matt Bowman clearly showing no ill-effects from the chest infection that caused the band to cancel two gigs last week.
The highlight of the night came when the five-piece hammered out their frenzied finale 'I'm Not Sorry', from their debut album 'Wait For Me'.
Pigeon Detectives Gallery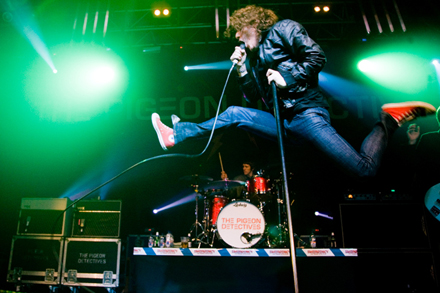 Matt Bowman on stage at the Oasis
Photos by Kris Talikowski

Pigeon Detectives - 09/12/2008
Day
Date
Time
Pendulum in Swindon
Drum and bass group wow crowds at the Oasis - gallery and review...

29 November 2008