swindonweb.tv® bringing you all of our top stories on video
Swindon Packs a Punch
Jamie delivers a knockout night of boxing at the Oasis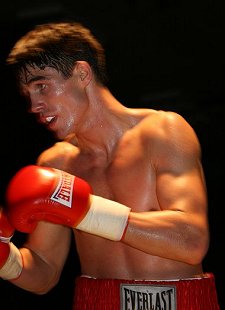 Middleweight legend Alan Minter described it as 'a great night's boxing'.
And who were we to argue.
The former world champion was ringside alongside SwindonWeb, as over two thousand fight fans packed into the Oasis to enjoy a six-bout card of top class boxing tonight.
Swindon's own Jamie Cox topping the bill, and not disappointing, as he impressively stopped Birmingham's Billy Smith in round five.
Walcot's Marlon Reid also a winner on his pro debut, with a decisive victory on points.
The night, sponsored by The Kyber Restaurant, Liquid & Envy and George White's, also featured an all-female contest won by Krissy Shergold.
"I'm so proud to see professional boxing back in Swindon," said promoter Keith Mayo of KM Promotions.
"We have a tremendous amount of boxing talent here in the town and to see everyone here supporting it and appreciating it is fantastic."
Light-Welterweight
Dan Stewart (Bristol) bt David Kirk on points (40-36)
Super-Featherweight
Chris Higgs (Lydney) bt Daniel Thorpe (Shefield) on points (59-55)
Women's Super-Featherweight
Krissy Shergold (Paignton) bt Lana Cooper (Cardiff) on points (39-37)
Middleweight
Marlon Reid (Swindon) bt Gary Cooper (Wales) on points (40-36)
Middleweight
Nasser Al Harbi (Birmingham) bt Lloyd Creighton (Darlington) on points (58-55)
Welterweight
Jamie Cox (Swindon) bt Billy Smith (Stourport) TKO R5
Swindon Pro Boxing Night Gallery

Pro Boxing at the Oasis - 17/10/2008
Day
Date
Time
Cox Shows What He's Made Of
Swindon-boxer denied world title by George Groves in epic four rounds at Wembley - WATCH VIDEO

15 October 2017

George Groves in Swindon
World Title Contender packs a punch at The Sun in aid of Sebastian Murtough - PHOTOS + SWTV INTERVIEW

01 March 2014

Ready To Rumble!
Cox & Royer come face-to-face ahead of this weekend's big Oasis clash...

14 June 2013

Cox Comeback
Swindon boxer ready for ring return at Oasis on 15 JUNE - SWTV INTERVIEW + PRESS CONFERENCE

12 April 2013

Ant & Dec-ked!
TV stars and former world-champs enjoy white collar boxing at MECA - SEE GALLERY

03 May 2012

Bam Bam v The Menace
Swindon grudge fight tops the bill at white collar boxing at MECA - WIN VIP TICKETS

Festive Knockout!
Boxing day comes early at MECA Swindon - REPORT & GALLERY...

17 December 2011

Title Fight Tops Bill
Wiltshire boxer Nick Blackwell defends his English middleweight belt at M.E.C.A - 05 MARCH...

17 January 2011

Semi Pro Fight Night
Sean Mulvihill crowned Heavyweight champion of the Neilson Promotions fight night...

13 September 2010

Go on, give it some!
White collar fight night at Liquid & Envy in Swindon - SEE GALLERY...

07 April 2010

Knock-out success
White Collar Boxing evening raises money for charity...

19 October 2009

Fancy some?
We grab a word with boxing legend Nigel Benn in Swindon on fights - and faith.... watch interview...

Ready to rumble
We interview Jamie Cox and Marlon Reid before tomorrow's fight at the Oasis...

Easy win for Cox
KO in the second for Swindon boxer - WATCH VIDEO INTERVIEW....

07 December 2008

Packing a punch
Legendary heavyweights reunite at Swindon sporting dinner...

Jamie Cox
Swindon's gold medal-winning boxing hero...