Regenerating the heart of Swindon...

Address: Wiltshire Court, Farnsby Street, Swindon, SN1 5AH
Phone: 01793 429250
Website: http://www.newswindon.co....
Swindon enjoys the Last Night of the Proms
BBC big screen event brings a spot of culture to the town centre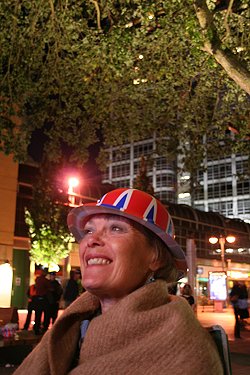 just one of people watching the
Last Night of the Proms on the
BBC big screen in Swindon
A crowd enjoyed an evening of classical music in Wharf Green last night.
The Last Night of the Proms was shown live on the BBC big screen, where people were invited to sit back and enjoy Beethoven, Wagner and the rousing finale of Rule Brittania.
Many of whom donned union jack bowler hats and engaged in a spot of flag waving in the best traditions of the event.
"Wharf Green and the new screen now give us the opportunity to showcase big events like this in the open air," said Carole Heneghan, of the New Swindon Company, who helped organise the screening alongside BBC Radio Swindon.
"I hope everyone really enjoyed the evening."
Last Night of the Proms Gallery

Swindon Last Night at the Proms - 14/09/2008
Day
Date
Time
Cultural Festival 2011
A series of vibrant events in Swindon town centre throughout August - EVERY THURSDAY...

Swindon 2012?
£200 million pound regeneration deal signed and sealed...