Freshly grown organic vegetables delivered straight to your door + farm shop open daily.

Address: 59 Coleshill, Swindon, SN6 7PT
Phone: 01793 861070
Website: http://www.coleshillorgan...
Coleshill Food Festival '09
Food, music and country games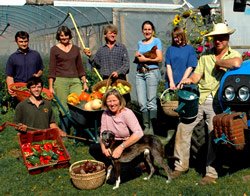 the Coleshill Food Festival - 12 Sept
Centered around food suppliers Coleshill Organics, the day will see a variety of local produce available for visitors to sample and buy.
Once again the former Granary will play host to local craft stalls and a mini beer festival supplied by the Radnor Arms.
There will also be demonstrations of National Trust Building and Countryside skills.
See below for what's on during the day and for a programme of walks, talks and demonstrations.
Gallery from last year's event below.

Coleshill Food Festival - 15/09/2008
Day
Date
Time
Coleshill Food Festival 2011
Organic open day with a variety of organic food producers, stalls and demonstrations - SATURDAY 10 SEPTEMBER...

22 August 2011