The National Trust HQ

Address: Heelis, Kemble Drive, Swindon, SN2 2NA
Phone: 01793 817400
Website: http://www.nationaltrust....
McCloud returning to Swindon
TV architecture guru back to plan sustainability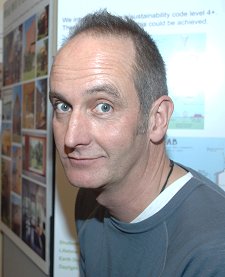 Housing expert Kevin McCloud is back in Swindon next month to
show local people plans for housing developments in the town.
The Wichelstowe and Pickards Small Field sites have been selected by the Grand Designs presenter for the possible
construction of eco-homes.
And now, after months of speculation and trouble within the housing market, McCloud will be joined by fellow architecture guru Isabel Allen, to discuss their future plans.
The event will take place on Thursday 16 October from 7.30pm at the National Trust headquarters in Swindon.
Now's your chance to put your questions to Kevin and Isabel.
To reserve your place (costing £4, or free to Swindon Civic Trust members) call 01793 495479, or email
thebrailsfords@onetel.com
.
Day
Date
Time
Grand Re-Design?
EXCLUSIVE TV: Kevin McCloud: "I'm not going to pull out now...." - updated