Kammy makes a cameo
Former Town player Chris Kamara back in Swindon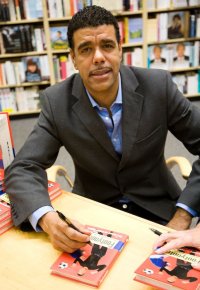 Chris Kamara signs copies
of his latest book
Ex-Town star Chris Kamara was back in Swindon today – to promote his new book Footynotes.

The Sky Sports pundit was joined at Borders book store by co-author comedian Richard Digance, who helped compile stories and humourous tales of their lives in football.

The work is a result of many Friday evenings when Kamara, preparing himself for football commentaries for the next day, and Richard Digance met up for a few beers and talked about the sport they love.
"As a former Swindon player, this place always brings back a lot of good memories," said Chris.
"I have already seen a number of faces I know well and had a joke about old times. It's nice to be back."
Gallery of Chris Kamara book signing

Chris Kamara book signing at Borders - 29/10/2008
Day
Date
Time
We Won This Once!
Swindon Town legends Don Rogers & Chris Kamara enjoy a moment & memories with the Carabao Cup - SEE PICS

23 February 2018

Kamara on form
Sky star and former Town legend speaks to SWTV at De Vere Village...

Swindon 4 Arsenal 3
Giantkillers again. We chronicle Swindon's greatest night at the County Ground - incl. SWTV INTERVIEW WITH ANDY ROWLAND + WATCH TOWN GOALS...