swindonweb.tv® bringing you all of our top stories on video
Jasper Fforde back in Swindon
Thursday Next date for author at Swindon central library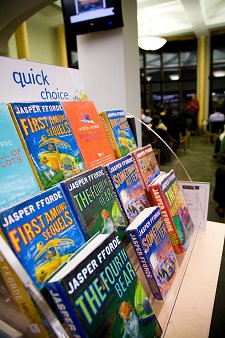 - all but one based in Swindon
Jasper Fforde, who has sold millions of books describing the adventures of his literary detective Thursday Next, explained just why he finds Swindon such a weird and wonderful inspiration for his writing last night.
The first talk by an author at the new central library, a place Fforde described as Swindon's new 'palace of learning'.
The popular novelist talked for just over an hour before answering questions on subjects as typically diverse as Elgin Llamahs (which feature in his books) and his opinion on the possibilities of time travel.
The author also revealing that Swindon will be staying as the location for Thursday Next's next adventure, due out in 2009 - and all future books.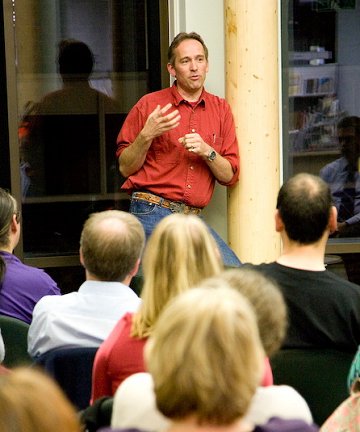 Alternative view of Swindon:
Jasper Fforde at the Swindon central library
Fforde's appearance was part of a programme of events at the new central library aimed at showcasing what's on offer and to encourage more people to enjoy reading.
Day
Date
Time
Jasper Fforde
Jasper Fforde - Creator of Literary Detective, Thursday Next...