The heart of Old Town, Swindon...

Address: Old Town, Swindon
swindonweb.tv® bringing you all of our top stories on video
Oh yes he did!
Shaun Williamson turns on the Old Town Christmas lights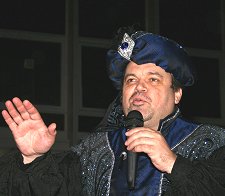 Shaun Williamson illuminates
Despite the weather - and a few technical hitches - the Old Town Lights were officially switched on last night.
Thousands descended on Wood Street to witness former Eastenders' actor and star of this year's Wyvern panto, Shaun Williamson, plus Swindon's striking duo of Simon Cox and Billy Paynter and Miss Swindon illuminate Old Town.
Shaun, who also starred in Ricky Gervais's comedy, Extras, entertained the crowds by leaping onto the stage with a hummed rendition of the Eastenders theme tune.
"I'm into the Christmas spirit now," commented Shaun, "there's a lot of people who have turned up tonight in this weather, they're a great bunch, and I'm having a great time in Swindon."
Old Town Christmas Lights Switch-on Picture Gallery

Old Town Lights switch-on 2008 - 28/11/2008
Day
Date
Time
Walsall 2 Swindon 1
Paynter screamer too late to save Town as drop zone gets closer...

29 November 2008