Highworth Christmas Lights 08
Hundreds wrap up warm to enjoy festive display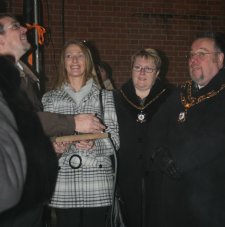 (l to r) Malcolm Corcoran and
Alison Evenett of TS Tech,
the mayoress and mayor of Swindon
It may have been one of the coldest nights of the year, but it didn't stop nearly a thousand people enjoying the Christmas lights switch-on in Highworth last night.
TS Tech boss Malcolm Corcoran the man with his hand on the plunger alongside Highworth mayor Steve Weisinger and Swindon mayor Steve Wakefield, as the market square and high street was illuminated just after 7:00pm.
At the ceremony, electronics engineer Mike Wilson was named Citizen of the Year for his work in helping to organise the Highworth Passion Play back at Easter.
Musical entertainment was provided, as ever, by the Highworth Silver Band, with free mince pies supplied by the local Lion's club. Butcher Andrew's Meats also stayed open late to put on what proved to be a very popular pig roast.
Highworth Christmas Lights 08 Gallery