Links for Council services...

Address: Civic Offices, Euclid Street, Swindon, SN1 2JH
Email: mjspencer@swindon.gov.uk
Website: http://www.swindon.gov.uk
swindonweb.tv® bringing you all of our top stories on video
Fit for Business
A free event that every Swindon company should get involved in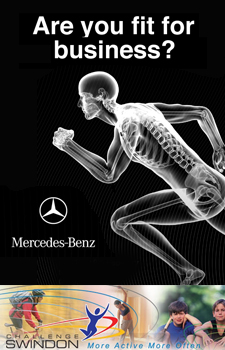 Are you fit for business?:
Come to the free event held at
Mercedes-Benz on 13 February
All Swindon businesses and organisations are invited to an evening of entertainment at Mercedes-Benz in Swindon.

But the topic isn't cars – it's fitness.

The free event, organised by Swindon Borough Council's leisure services team, is being held at the dealership in Drakes Way on 12 February, from 6pm until 8.30pm, and is a chance for employers to learn about the advantages of improving the wellbeing and fitness of their employees, and also ways to make it happen.

Plenty of action is also planned for the night. For example, guests can test their football shooting skills against players from Swindon Town Football Club or try their hand at the tri-golf challenge.

Free fitness passes will be up for grabs, along with prizes as part of the charity draw. Fleet and fuel management firm Arval, based in Windmill Hill Business Park, being just one business who are already making great strides in helping its staff on the road to fitness.

"This event sounds like a great idea – the more companies can do to help their staff be more active, the better," said Arval Company Secretary Julian Brand.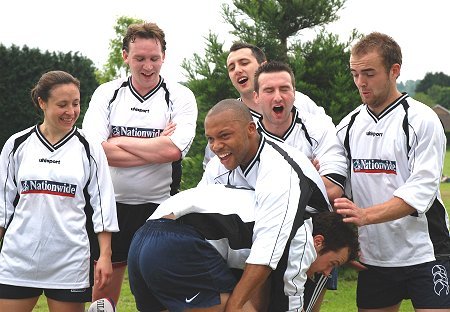 Nationwide competitors from last year's Challenge Swindon

As some 60 per cent of our waking hours are spent at work, employers are in an ideal position to promote taking more exercise and leading a healthy lifestyle – and also to reap the benefits claim the organisers.

"The evening, will offer a wide range of information about how local companies and organisations can help educate, motivate and support their staff in becoming "more active, more often," commented Cathy Caulfield, Funding & Communications Officer for Swindon Borough Council Leisure Services.

"The Mercedes-Benz dealership is a fantastic venue and I think it's going to be a fantastic night."
"I encourage all employers in the Borough, large and small, to come along and see what's on offer," said Councillor Nick Martin, Cabinet Member for Property, Leisure and Recreation.
"Maintaining and improving the fitness and wellbeing of your workforce makes perfect business sense – a healthy, happy workforce are likely to be more productive."
For more information and your personal invitation please call Cathy Caulfield or Bev Rawlings on (01793) 511033 or send an email to
info@challengeswindon.org.uk