College of higher education...

Address: North Star Campus, Swindon, SN2 1DY
Phone: 01793 491591
Website: http://www.swindon-colleg...
Gain a new skill!
Affected by Redundancy? Go to Swindon College's 'Futures Fair'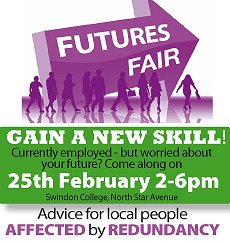 Swindon College hold 'Futures Fair'
to help all those effected in
the economic downturn
It's the topic of conversation and is grabbing the headlines daily - redundancy.
But, with hundreds in the same boat, Swindon College will be holding a 'Futures Fair'.
It's open to anyone who is facing redundancy or has recently been made redundant as a result of the recent global economic downturn.

The College will be offering advice and information including how to search for jobs, retraining and new qualification opportunities, college courses, money advice, careers guidance and how to start up your own business.
The event takes place on the 25 February, from 2pm to 6pm and it will be held in the Avenue at our North Star campus.

For more information vsit the Swindon College website via the link below.
Day
Date
Time
Recognition all round
Swindon College host UK Plumbing Apprentice of the Year 2009 Regional Competition...

20 February 2009

Vision for Swindon
Swindon College students show shoppers their ideas for Swindon's future...

05 February 2009