Links for Council services...

Address: Civic Offices, Euclid Street, Swindon, SN1 2JH
Email: mjspencer@swindon.gov.uk
Website: http://www.swindon.gov.uk
swindonweb.tv® bringing you all of our top stories on video
Swindon Festival of Literature
New Central Library hosts literature launch
Have your books at the ready - as today was the official launch of the Swindon Literature of Festival 2009.
Taking place at the New Central Library, Festival organisor Matt Holland unveiled the new 36-page full-colour programme for the sixteenth year of the Festival.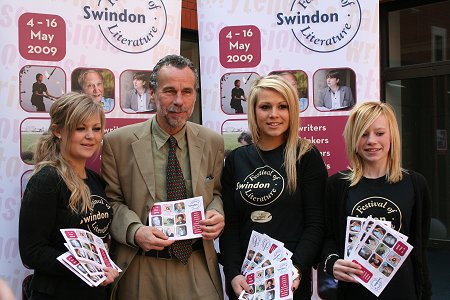 Swindon Festival of Literature launch at the New Central Library
Authors due to appear in May include: natural history guru and 'national treasure' Sir David Attenborough, Lord Lawson of Blaby Nigel Lawson, Swindon-boy made good Julian Clary, TV commentator and the man who was in goal, for the opposition, at Wembley, when Swindon won the League Cup, Bob Wilson, writer of the Inspector Morse series Colin Dexter, former Children's Laureate Michael Morpurgo, novelists Margaret Drabble and Josephine Hart, poet Simon Armitage, television actor, impressionist, and writer Alistair McGowen, former England cricket captain Marcus Trescothick, all-rounder Rory McGrath, controversial modern artist Jake Chapman, philosopher Mark Vernon, poet Rith Padel and novelist Emma Darwin, both great, great grand-daughters of Charles Darwin!
And these are just the famous few!
"The line-up is fantastic this year," commented Matt, "I have tried to get David Attenborough here for over seven years, and it's brilliant to get him part of this year's Festival."

"There will, of course, be a host of other writers, poets, performers, storytellers, workshops, talks, and discussions; and, for early-birds, the Dawn Chorus; for the young at heart, the all-action Children & Families Day and Campfire Storytelling; the brilliant Youth Poetry Slam; and the nationally-known super Swindon Slam! In other words, lots to enjoy!"
So start getting excited about literature today!

Swindon Festival of Literature launch - 19/03/2009
Day
Date
Time