Coate Water Country Park:


Voted 'Swindon's favourite place' incl. park, lake, miniature railway, pitch-n-putt and nearby Richard Jefferies museum...

Address: Marlborough Road, Swindon, Wilts, SN3 6AA
Phone: 01793 490150
Website: http://www.swindon.gov.uk...
Swindon on 2 Wheels
Tandem gets Lisa back on the road
It's on of Swindon's biggest cycling events of the year - and one rider will most definitely taking part thanks to the generosity of Swindon Councillor Nick Martin.
Lisa Dainton, who has been visually impaired since birth, will be riding a tandem alongside sports development officer Ben Humphrey in Swindon on 2 Wheels, which takes place this Sunday.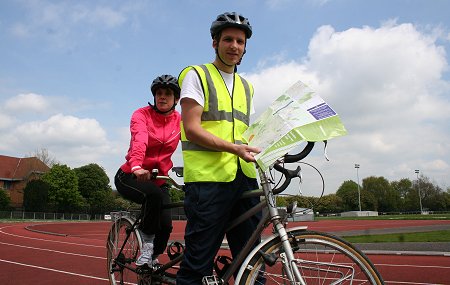 Lisa Dainton and Ben Humphrey, who are taking part in this Sunday's event Swindon on 2 Wheels
The event, a fun cycle orienteering event for all the family, has been organised to help encourage use of Swindon cycle path network and launch the new Swindon cycle map.

Lisa originally rode a tandem until five years ago, but had to stop because she no longer had anyone to take her out.

But now she's back on the road, and hugely looking forward to being back on a bike this weekend.


Ben first met Lisa, who is 38, at an inclusive climbing session he runs at the Link Centre.

She then joined the rehabilitation sessions at the gym at the County Ground Lifestyle Centre, where she mentioned to Ben that she used to ride a tandem.

After making a few enquiries Ben learnt that Cllr Martin had a tandem and was happy to step in to the breach.

"I'm very pleased to be able to lend the tandem to Ben and Lisa," commented Cllr Nick Martin, "I don't ride it much during the winter, so I'm delighted it's being put to good use."

Lisa and Ben go cycling once a week and at the moment are riding six miles, but they are building up to the Swindon on 2 Wheels event on Sunday 26th April when they hope to be able to manage around 20 miles.

"To get used to the bike, we rode around the athletics track on our first couple of sessions, now we're riding from here along the cycle path to Greenbridge and back but our intention is to ride further each week in preparation for Swindon on 2 Wheels," Ben Said.

"I love the freedom cycling gives me and in particular the fresh air and exercise," Lisa added, "I really look forward to riding the tandem with Ben every week.

"I'd like to thank Councillor Nick Martin for his generosity - I've even nick-named the bike Metal Nicky."
To enter Swindon on 2 Wheels
There are three starting points: Coate Water, the Link Centre and Haydon Wick Centre.
Cyclists should have a roadworthy bicycle, carry a repair kit, and a good fitting helmet.
Registration between:
10am and 1pm
Day
Date
Time
Swindon Bike Week '09
It's never been a better time to get on yer' bike! - full list of events...

10 June 2009