Meeting place in Swindon town centre, and home of the big screen...

Address: Canal Walk, Swindon, SN1 1LD
Phone: 01793 485 523
Website: http://www.swindontowncen...
Cry Swindon and St George
The world's biggest St. George will be in Swindon town centre this Saturday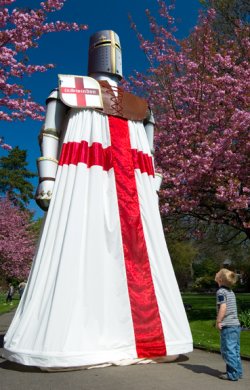 St. George statue set to parade
through Swindon town centre
this Saturday
The world's biggest St. George will be in Swindon town centre this Saturday as part of the town's celebrations of England's patron saint's day.
The stunning figure, with his armour and red and white cross, stands over five metres tall, and has been produced by Swindon Cultural Partnership as a symbol of Swindon's pride in all things English.

But Swindon's St. George will not be the only big character in town on Saturday.

He will be accompanied by Christopher, a giant from nearby Salisbury.

The two of them will then join in the St. George's day celebration in Salisbury on the Sunday.

"Celebrating St. George's day has long been an important part of life in Swindon – in fact just outside the town we have Dragon Hill, where George is supposed to have killed the dragon!" commented Mike Pringle, of Swindon Cultural Partnership.
"This year, the Mayor has a concert on St. George's day itself, then there are three parades around the town over the weekend, including ours, and a concert at Christchurch on the Saturday evening. Swindon is celebrating the day in BIG style!"
Come and join in
The two Wiltshire giants will lead a procession – which also includes Miss Swindon and the Bollywood Dreamers dance troop – through the town centre on Saturday.
It will start at the Cenotaph at 12.00 and move down to Wharf Green for free events and activities until 2.30pm.
The event is being organised as part of the Think:Swindon season.
Come and do your shopping and join in the celebrations at the same time.
Just a taster:

- A town centre parade starting from the Cenotaph at 12pm
- English movies, markets and mayhem in Wharf Green
- Interactive football on the BBC Big Screen
- Miss Swindon flying the English flag and lots more...
Please see the Think:Swindon website for more information via the link below.
Day
Date
Time