Meeting place in Swindon town centre, and home of the big screen...

Address: Canal Walk, Swindon, SN1 1LD
Phone: 01793 485 523
Website: http://www.swindontowncen...
Grow your own grub
Join in as the BBC Dig In tour rolls into Swindon
The BBC's campaign to encourage people to grow and cook their own veg is rolling into Swindon next week as the Dig In ice cream van ("Stop Me and Grow One") continues its five month, nationwide tour.

Throughout spring and summer BBC Dig In has been urging new growers to get digging wherever they can, offering free seed starter packs and a sprinkling of advice and information through a dedicated website.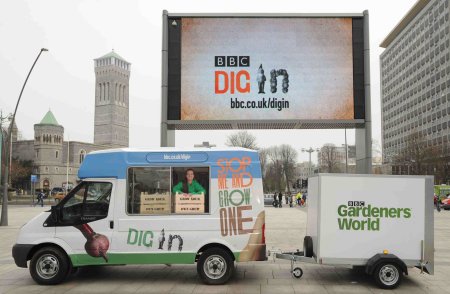 The BBC Dig In van will be in Swindon, Wharf Green
Friday 31 July and 01 August 2009
Now the campaign is moving from plot to pot as the focus shifts to cooking up all that lovely new produce with the giveaway of a scrumptious Nigel Slater recipe booklet to coincide with the transmission of his new series Nigel Slater's Simple Suppers on BBC One in the Autumn.
The BBC Dig In Ice cream van will be pitching up at
BBC Big Screen
, Wharf Green, Swindon, on
Friday 31st July and Saturday 1st August
to give out a booklet containing five delicious Nigel Slater recipes utilising the Dig In veg, composting advice from green-fingered Gardeners' World presenter Toby Buckland and a make and do activity for little fingers.
Pick up a wheelbarrow full of advice
And visitors to the Dig In van can take part in a children's cooking activity, creating a special dish to take home using the Dig In vegetables, and pick up a wheelbarrow full of advice from vegetable veterans.
"Quite simply we have been trying to enthuse and help first-timers to grow their own grub anywhere," says BBC Dig In project executive Nina Bell.
"We wanted to see whole families coming together to get their hands dirty and turn their fingers green and now we're looking to encourage everyone to cook all those scrumptious veggies too.
" So if you want some exciting ways to cook up those carrots, season your squash and beef up your beetroot, then come along to the Dig In van!" Says super cook Nigel Slater.
"There's nothing quite as tasty as grub you've grown yourself. You get the sense of achievement and pride of producing it from your packets of Dig In seeds and the pleasure of knowing the whole story about what you're eating.

"When you've sown some seeds, watered them, looked after the plants and then harvested your grub, you feel differently about the vegetable you're about to make your supper with. Growing your own grub is the best seasoning your food can have."
Day
Date
Time