Michelin Guide-rated pub with bed & breakfast run by Helen Browning...

Address: Cues Lane, Bishopstone, Swindon, SN6 8PP
Phone: 01793 790481
Email: royaloak@helenbrowningorganics.co.uk
Website: https://helenbrowningsorg...
Pigstock 2010
Live music, hog roast - and a chance to camp with pigs!
Here something different to do in Swindon - camp with pigs!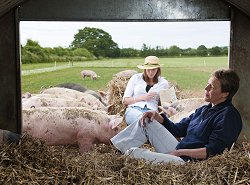 available 12, 13, 14 & 15 August
To coincide with the Pigstock Music Festival at the Helen Browning Organics' Royal Oak pub in Bishopstone on Saturday 14 August, campers can slumber down in a 6-man 'arc' surrounded by porkers!
Costing £18 per night per person (£10 for children), the unusual accommodation includes clean straw, loos and showers, wood for campfires, piggy neighbours and a Landrover taxi service to and from the village.
Facilities also include 30 grassy acres, enough space for several simultaneous games of football/cricket.

The price per person per night is £18; £12 for children 12 and under. This covers pig arc (or tent or camper van); showers and loos; running water (standpipe); campsite/village shuttle land rover. Food available all day not included in price.
Breakfast in bed is also on offer. Bacon sandwich, anyone?
Camp with pigs is available on 12th, 13th, 14th and 15th August.
Room for tents and campervans is also available.
Pigstock Mini Music Festvial
Set for the evening of 14 August 2009, the Pigstock Mini Music Festival features popular local bands and folk singer Jo Selbourne.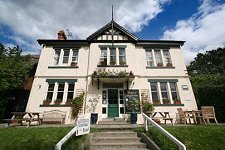 The Royal Oak at Bishopstone
Music is from 6.30 till midnight in the garden.
Hog Roast; Flying Pig burgers and local guest ales are also available.
Day
Date
Time