Swindon's world famous leisure centre...

Address: North Star Avenue, Swindon, SN2 1EP
Phone: 01793 445401
Website: http://www.oasisleisure.c...
Girl power to take over the Oasis
Lulu, Chaka Khan and Anastacia all set for a special concert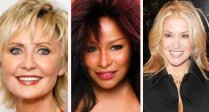 Lulu, Chaka Khan and Anastacia will be belting out the hits during the ultimate girls' night out at the Oasis.
The trio will be stopping off in Swindon on Friday 27 November as part of their nationwide Here Come The Girls tour and is set to be an unforgettable evening of music and dance.
"The show is a celebration of us women - a little mischief and a lot of fun, set to real get-up-and-dance music. Talk about woman power!" Lulu said.
The concert will be seated and tickets cost £25, £30 or £40 plus a £2.50 booking fee, if bought directly from the Oasis.
Tickets, which go on sale on Friday (18 Sep) from 9.30am, can be bought from the box office by calling 01793 445401 or by visiting the oasis website vi the link below.
Day
Date
Time