Swindon's world famous leisure centre...

Address: North Star Avenue, Swindon, SN2 1EP
Phone: 01793 445401
Website: http://www.oasisleisure.c...
swindonweb.tv® bringing you all of our top stories on video
New Day, New Dawn
Fourth professional boxing bill set for Oasis Leisure Centre
The fourth professional boxing bill at the Oasis Leisure Centre was launched today - with the focus firmly being on new talent.
The event called a 'New Day, New Dawn' will see three new signings to Keith Mayo Promotions make their debut in the paid ranks.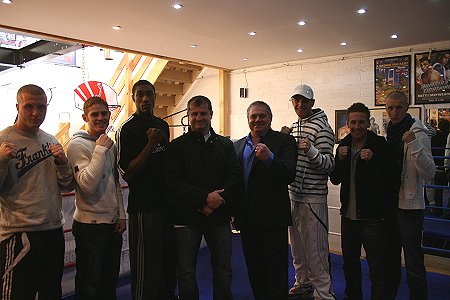 (l-r) Andrew 'Macca' McCaffrey, Chris Higgs, Marlon Reid, Dean Mills,

Keith Mayo, Kelvin Young, Jamie Speight and Dan Stewart
Penhill RBL ABC Middleweight Kelvin Young being one of them.
The 22 year-old lad from Penhill who put pen to paper this week, has traded in his vest and gone professional after 40 amateur bouts.
Andrew 'Macca' McCaffrey also signed this week, the 27 year-old Swindonian has decided to change careers after being the former British middleweight kick boxing champion.
And completing the trio is the Horseshoe Gym's first female profesional Alicja Dabrowska.
Heading the Oasis bill is Marlon Reid, who is keen to get back to winning ways after influenza scuppered his four-fight unbeaten run when he met Patrick Mendys in Torquay.
The event will take place on 04 December 2009 at the Oasis Leisure Centre.
Tickets are £30 and £60 for a VIP and are available through the Oasis box office via the link below or call Keith Mayo on 07789890453
Day
Date
Time
George Groves in Swindon
World Title Contender packs a punch at The Sun in aid of Sebastian Murtough - PHOTOS + SWTV INTERVIEW

01 March 2014

Ready To Rumble!
Cox & Royer come face-to-face ahead of this weekend's big Oasis clash...

14 June 2013

Cox Comeback
Swindon boxer ready for ring return at Oasis on 15 JUNE - SWTV INTERVIEW + PRESS CONFERENCE

12 April 2013

Ant & Dec-ked!
TV stars and former world-champs enjoy white collar boxing at MECA - SEE GALLERY

03 May 2012

Bam Bam v The Menace
Swindon grudge fight tops the bill at white collar boxing at MECA - WIN VIP TICKETS

Festive Knockout!
Boxing day comes early at MECA Swindon - REPORT & GALLERY...

17 December 2011

Title Fight Tops Bill
Wiltshire boxer Nick Blackwell defends his English middleweight belt at M.E.C.A - 05 MARCH...

17 January 2011

Semi Pro Fight Night
Sean Mulvihill crowned Heavyweight champion of the Neilson Promotions fight night...

13 September 2010

Go on, give it some!
White collar fight night at Liquid & Envy in Swindon - SEE GALLERY...

07 April 2010

Knock-out success
White Collar Boxing evening raises money for charity...

19 October 2009

Knock-out success
White Collar Boxing evening raises money for charity...

19 October 2009

Fancy some?
We grab a word with boxing legend Nigel Benn in Swindon on fights - and faith.... watch interview...

Ready to rumble
We interview Jamie Cox and Marlon Reid before tomorrow's fight at the Oasis...

Packing a punch
Legendary heavyweights reunite at Swindon sporting dinner...

Boxing Legends Sporting Dinner
3 course meal, auction and raffle. with Joe Eagen (Mike Tyson's sparring partner) and local Swindon CHampions: Ricky Porter + Eddie Neilson + Peter Neal + Jamie Cox + Paul Rogers + Cliff Curtis. Please contact venue for more information and to book your tickets.

29 January 2008