Meeting place in Swindon town centre, and home of the big screen...

Address: Canal Walk, Swindon, SN1 1LD
Phone: 01793 485 523
Website: http://www.swindontowncen...
swindonweb.tv® bringing you all of our top stories on video
Festival of Sport inSwindon
Swindon town centre will come to life with sporting activities, live demonstrations, competitions plus much more
On Saturday 10th April and Sunday 11th April Swindon town centre will come to life with sporting activities, as inSwindon host their first Festival of Sport event.
From soccer to surf-boarding, cricket to golf, speedway to ice hockey - Swindon town centre is set to become a haven of sport during an action-packed weekend next month.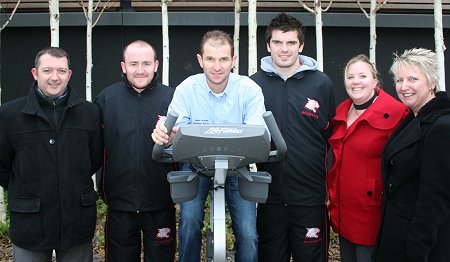 (l to r) Simon Jackson CEO inSwindon, Ryan Aldridge Swindon Wildcats, Leigh Adams Swindon Speedway, Aaron Nell Swindon Wildcats, Suzy Johnson And Rebecca Rowland inSwindon
The weeekend will include live demonstrations, taster sessions competitions plus much, much more.
Members of the public will be encouraged to try items from the huge range of sporting and leisure equipment available in specialist shops.
Swindon Town Football Club, along with stars from the Wildcats ice hockey and Swindon Robins speedway teams are all taking part, bringing their skills, expertise and equipment to the town centre.
Firmly focused on family fun, the festival will also include a series of hands-on sporting activities which will enable shoppers of all ages to get involved and have-a-go.
Among the attractions that will be taking place during a series of sessions at Wharf Green include a Soccer AM style inflatable target goal so dads can test their skills against their children.

Three of the country's most talented "keepie uppy" experts – Macca, Ash and Lubz – will demonstrate their staggering skills and gravity defying stunts as part of a new freestyle football team.
Swindon Robins will be setting up a "Beat the Starter" facility where the public can test their reaction times in starting speedway bikes.
A speed-cage will also be supplied by Swindon Wildcats for people to test their deftness at smashing the puck into the net. Body combat sessions, Velcro Golf, Hi Ball and Acroflight activities will all be available free of charge while a gymnasium with the latest hi-tech equipment will be set-up for a series of fitness competitions.
There will also be a surfing simulator in the heart of land-locked Swindon where members of the public can practise their bottom turns, reverses and slides – much to the interest and amusement to passers-by.
Plus... Interactive games live on the Big Screen
On Sunday 11th April 11.00am – 3.00pm there will be FREE activities available throughout the day for all the family.
For more information visit the inSwindon website via the link below...
Day
Date
Time