Top Gun coming to Swindon
F-22 Raptor set to star at Air Tattoo
You won't see an aircraft like this flying over Swindon very often – the all-new 'Top Gun' F-22 Raptor.
But it's a case of 'second time lucky' for what is the world's newest and most exciting jet fighters, when the Raptor makes a welcome return to RAF Fairford this summer – two years after its planned UK debut appearance was rained off.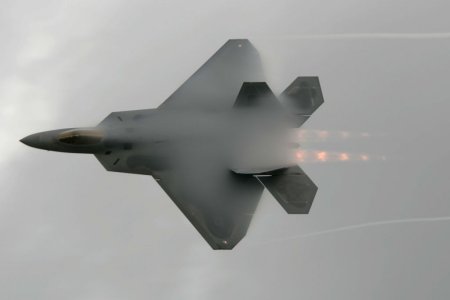 Skies over Swindon this summer:
Now the aircraft, from the US Air Combat Command, will be returning to the Air Tattoo on July 17&18 to demonstrate why it is capable of outperforming any existing fighter aircraft in air-to-air combat.
The Raptor represents a new generation of fighter aircraft incorporating state-of-the-art stealth technology, sophisticated weaponry and vectored thrust giving it an unrivalled combination of secrecy, power and manoeuvrability.
Air Tattoo Deputy Director of Air Operations Robert Windsor said he was delighted to see the aircraft return to perform at the Air Tattoo.
He said: "The Raptor is one of the jewels in the crown of military aviation and its display in July will be among the highlights of the seven-and-a-half-hour flying display. I recall that the pilot and his ground crew were tremendously friendly and professional throughout their stay with us – despite their obvious disappointment. I am really pleased that they will finally be able to perform for our large and appreciative Air Tattoo audience!"

The Air Tattoo, which is held in support of the Royal Air Force Charitable Trust, is the world's largest military airshow and attracts around 300 aircraft from across the globe.
This summer's event will stage special tributes marking the 70th Anniversary of the Battle of Britain.
In addition to the flying display, visitors can enjoy a large static aircraft park plus a wide range of ground-based activities including a concert stage, fairground rides, and the interactive Tri@RIAT area for youngsters.
For details and to buy tickets, visit airtattoo.com
Hello, Mr President!
Air Force One soars over Swindon as Obama flies in to RAF Fairford - SEE PICS

04 September 2014

RIAT 2011
Barrel roles, pyrotechnic explosions and of course, the Red Arrows - SEE OUR GALLERY...

17 July 2011

Lovely Jubbly!!
David Jason AKA Del Boy returns to officially open the 2011 Fairford Air Tattoo...

08 June 2011

Fairford Airshow 2010
Battle of Britain commemorated as Air Tattoo pulls out all the stops - SEE GALLERY...

18 July 2010

RAF Fairford 2009
Held annually each July at RAF Fairford, Gloucestershire, the Royal International Air Tattoo, the world's largest military airshow, has gained the well-earned reputation as one of the UK's top outdoor family events..

15 July 2009

Air Tattoo launch
RAF's finest fly in to launch the world's biggest airshow 2008...

03 June 2008

Skies Over Swindon
09 APRIL 1969 - 50 years ago Concorde flew in to Swindon - and in them days you were allowed on the runway! WATCH VIDEO

Air Tattoo 2007
Gallery and SwindonWebTV of this year's flying spectacular...

David Jason
David Jason AKA 'Del Boy' opens the 2007 Air Tattoo...