Meeting place in Swindon town centre, and home of the big screen...

Address: Canal Walk, Swindon, SN1 1LD
Phone: 01793 485 523
Website: http://www.swindontowncen...
swindonweb.tv® bringing you all of our top stories on video
Armed Forces Launch Day 2010
Armed Forces Veterans Badging ceremony, family fun day and much more
From World War Two veterans to those who have fought in Afghanistan - they are all entitled to a unique badge honouring military men and women who have served Britain.
Now a special ceremony will take place in Swindon next month when former members of the Army, RAF and Royal Navy will be presented with the HM Armed Forces Veterans Badge.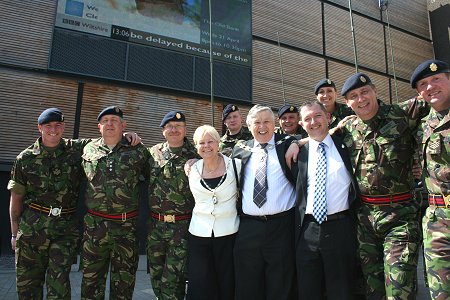 An opportunity to say thanks:
inSwindon CEO Simon Jackson with the 280 Movement Control Squadron for Armed Forces day launch
They will receive the enamel lapel badge from the Mayor of Swindon in recognition of serving their country in various military capacities over the decades.
Members of the reserves and volunteers as well as regulars are entitled to the honour, which is aimed at raising the profile of the work of the Armed Forces since World War Two.
The ceremony will take place at Wharf Green at 11am on Wednesday, June 23 during the build-up to the national 2010 Armed Forces Day on Saturday, June 26. It is one of several key events being staged at Swindon town centre throughout Armed Forces Week from June 21-27.
Simon Jackson, chief executive of town centre management company inSwindon, which is hosting the Armed Forces events, said: "This will be a very proud day for Swindon.
"This badge is a fitting tribute to all those local people who have served as members of the Armed Services over the years. "The recipients have all done their bit for Queen and country. The badge and the presentation ceremony are a tremendous way of recognising the big contribution made by veterans over so many years.
"These include those who have fought in a number of conflicts to people involved in roles ranging from peacekeeping and reconstruction to home defence."
Mr Jackson said that inSwindon was keen to make Armed Forces Week 2010 even bigger than last year's success.
It will begin in Swindon at 10.30am at Wharf Green on Monday, June 21 with the hoisting of a specially-commissioned Armed Forces Day national flag. A family fun day will take place at Faringdon Road Park on Saturday, June 26, featuring the Paramount Parachute Display Team which will descend in style at 11am to mark the opening of the proceedings.
Day
Date
Time
Armed Forces Day 2011
Military parade, veteran's badge ceremony plus a full day of family entertainment - SEE OUR VIDEO AND GALLERY...

TA' very much
Swindon TA centre welcomes new tanks for training...