Michelin Guide-rated pub with bed & breakfast run by Helen Browning...

Address: Cues Lane, Bishopstone, Swindon, SN6 8PP
Phone: 01793 790481
Email: royaloak@helenbrowningorganics.co.uk
Website: https://helenbrowningsorg...
Vino while the votes roll in!
Royal Oak pub to stay open throughout Election night
It's not often that the television gets switched-on at the Royal Oak at Bishopstone but it will be tonight.
For Election night is classed as a special event at the Michelin-rated pub by landlord Tim Finney, who will be opening late especially to serve beer and sandwiches as the results roll in.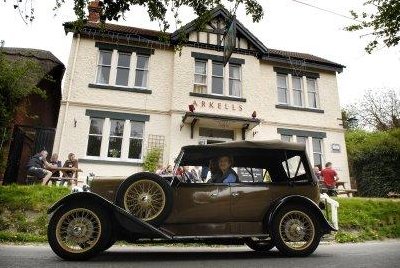 The Royal Oak at Bishopstone
"It only happens every four or five years and I expect there will be a lot of noise and jeering!" Mr Finney said.
"We'll be serving beer and sanwiches until the wee small hours and we're expecting quite a few from the village. But everyone's welcome."
Election night special at the Royal Oak starts at 10.30pm.
Day
Date
Time
Cheeky!
Opportune advertising raises a laugh at Bruce Street Bridges...

05 May 2010

Election Time 2010
Final day - still unsure? Take a final look at our guide to see videos, history and more...