The UK's first dedicated computer museum...

Address: 6/7 Theatre Square, Swindon
Phone: 07834375628
Email: publicity@museumofcomputing.org.uk
Website: http://www.museumofcomput...
Gobble, Gobble!
Big Screen event gets high score in Wharf Green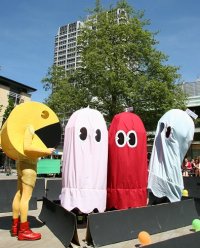 The scourge of ghosts, dots and power pills munched his way into Swindon town centre today to celebrate the 30th anniversary of all-time video game classic, Pac-Man.

Three unique events were organised by the Museum of Computing in Wharf Green to mark the milestone - including a specially constructed maze for a unique `Human Pac-Man' event.
A game where members of the public were be able to control a real life Pac-Man on the Big Screen, trying to avoid the giant ghosts while collecting dots.
"The day has been as brilliant as the weather," said Simon Webb, organisor and curator of the Museum of Computing.
"There's so many mums and dads here that remember Pac-Man I hope it's brought back a few memories!"
See gallery below.

Pac-Man Swindon in Wharf Green - 22/05/2010
Day
Date
Time
Bedroom Programming Challenge
Spend a night at the museum...step back into the 80's and create your own hit computer game. No programming experience needed! 14 MAY...

Super Mario in Swindon!
Museum of Computing celebrates 25 years of Super Mario Bros with family gaming day - THIS SATURDAY...

Night at the museum!
Enjoy a spooky night of gaming at the Museum of Computing - open 'til 1am...

28 October 2010

One hour snapshot
Photos from Swindon town centre: 1.30-2.30pm on 22 May 2010...

22 May 2010