Meeting place in Swindon town centre, and home of the big screen...

Address: Canal Walk, Swindon, SN1 1LD
Phone: 01793 485 523
Website: http://www.swindontowncen...
Carmen to broadcast live from Big Screen Swindon
Wharf Green ready to host the show - 08 JUNE
One of the world's most famous operas - Carmen - is set to be broadcast live from Big Screen Swindon on Tuesday 8th June 2010.
After two year's of successful screenings from the Royal Opera House, Wharf Green is getting ready to host the show, giving local people the opportunity to watch a favourite Opera and to join in a Sing Along which will be aired live from Trafalgar Square in London.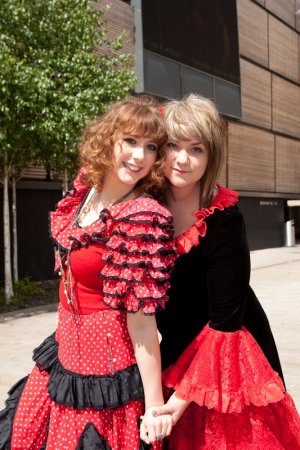 Carmen all set for Swindon:
Charlotte Bayston and Shekinah Hiscox,
students from the New College
The event will be jointly hosted by the BBC, Forward Swindon and inSwindon BID Company ltd. Carmen, a story of sex, crime and murder, has been watched by millions of people around the globe.
It is the story of a gypsy girl from Seville, who plays a dangerous game of section and betrayal, and it is sure to delight Big Screen audiences around the county this summer.
The curtain will rise at Big Screen Swindon at 6.45pm on 8th June. All are invited to what is sure to be a magical and exciting evening.
Tickets for Carmen on the Big Screen are free - go to the Big Screen website via the link below to register.
People are invited to bring picnics, or they can purchase food and drink at the onsite enclosure. Gareth Malone will lead a Summer Big Screens Carmen Sing Along live from Trafalgar Square – for more information and to download a free copy of the words go to the Royal Opera House website via the link below.
Day
Date
Time