Outdoor pursuits and watersports based at the Cotswold Water Park nr Swindon...

Address: 12 Clyde Cottages, Wroughton, Swindon, SN4 9AE
Phone: (01285) 861202
Website: http://www.ukwatersports....
The BIG Cotswold SWIM
Take a dip for charity with a mile and 2 mile open water swim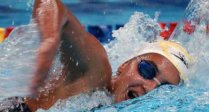 Fancy a challenge with a difference this summer?
Then why not join in the big Cotswold Swim 2010.

There is a one mile open water swim or two mile open water swim.
It's open to anyone who can cover the distance and the swim will take place in a clear gravel bottom lake over a multi lap course which will be GPS measured, clearly marked and have a full safety crew.
Wetsuits are strongly recommended for these events.
For more information and to download an entry form please visit the big Cotswold swim via the link below...
Where:
Waterland Outdoor Centre, The Cotswold Water Park, Shorncote, Nr Cirencester
When:
Saturday 17 July 2010 Start From 8.30am
Day
Date
Time