Swindon's first grand park, situated in Swindon town centre...

Address: Faringdon Road, Swindon
Website: http://www.swindon.gov.uk...
Armed Forces Family Fun Day 2010 - 1
Faringdon Park the venue for a celebration of our Armed Forces
Over three thousand people were entertained last year at the first Armed Forces Family Fun Day and this year is expected to be even bigger and better on Armed Forces Day this month - 26 June.
Tanks, assault courses, military maneuvers, motorcycle displays, human table football, climbing walls, plus the usual fairground rides and more will all be on offer.
The event, organised by inSwindon, will be started in spectacular fashion by the Paramount Parachute Display Team, who will descend in style into Faringdon Park at 11am.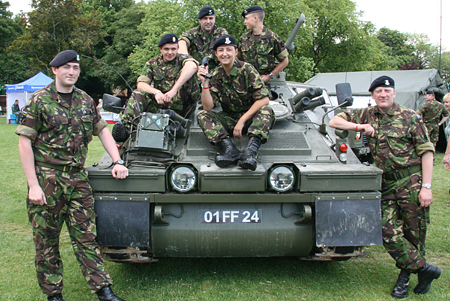 a scene from the Armed Forces Family Fun Day last year
Day
Date
Time
Armed Forces Day 2011
Military parade, veteran's badge ceremony plus a full day of family entertainment - SEE OUR VIDEO AND GALLERY...

TA' very much
Swindon TA centre welcomes new tanks for training...