Churchill's Secret Army - REVEALED
Open day to celebrate the 70 year anniversary of The Auxiliary Unit at Coleshill
It's one of the greatest secrets of the Second World War - and it happened here right on our doorstep.
And to mark the 70th anniversary of the Auxiliary Unit - Churchill's secret army of resistance fighters - a special celebration is taking place on the National Trust Coleshill Estate, near Highworth, this weekend to honour those who formed what was described as 'Britain's last ditch line of defence'.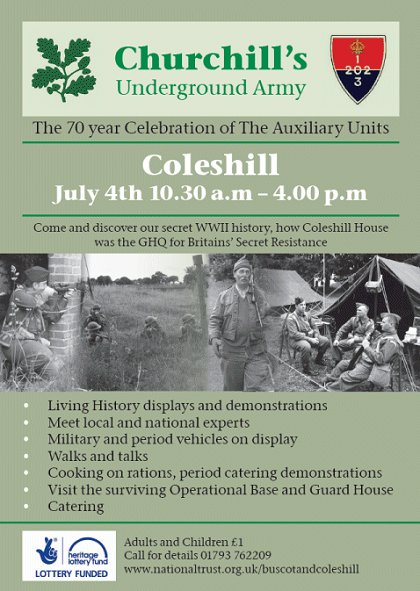 The Auxiliary Units were formed in preparation for German army invading Britain in the summer of 1940, operating in a network of cells from hidden underground bases. They trained in secret at Coleshill House.
Recruits were told to take a train to Highworth and report to the local Post Office - where the grey-haired face of postmistress Mabel Stranks met them and performed security checks before calling Coleshill House to pick them up. A secret involvement, Ms Stranks only spoke of just before her death in 1971 - see story below.
Talks, demonstrations and site tours

The day is the unique opportunity to learn how the British Resistance were trained in preparation for a German invasion and occupation including talks by experts, weapons demonstrations, site tours and enactments as well as military vehicles and period catering. A fun day for all ages.
£1 entrance fee which will be donated to Help For Heroes.
The celebration day and a campaign led by Coleshill House and Auxiliary Unit historian, Tom Sykes, to recognise those who took part in Churchill's Secret Armey appeared in The Times on 26 June 2010.
70 Years On
Crowds gather in Swindon to mark the 70th anniversary of VJ Day - SEE PICTURES

17 August 2015

The Christmas Truce
You've probably seen the advert - but Captain Mervyn Richardson from Purton was really there...

15 November 2014

Swindon Wartime Weekend
Step back in time to the Second World War at the Swindon & Cricklade Railway - 13 & 14 SEPT

Marking The Start Of WW1
100 YEAR ANNIVERSARY: Schoolchildren gather in Wharf Green before 28 June - the day that sparked the Great War...

26 June 2014

D-DAY
76th ANNIVERSARY: Watch our films showing how Swindon played its part on the 6th June 1944 - WATCH VIDEOS

Bravery Recognised
Proud evening as Swindon soldiers are awarded Operational Service Medals for Afganistan Tour - WATCH VIDEO

12 March 2014

Field of Remembrance
Lydiard Park hosts the Royal British Legion's tribute to our brave Serviceman & women - 08-17 NOV

Radnor Street Remembrance
Swindon honours its war graves at much-neglected cemetry - GALLERY + PICS FROM OTHER REMEMBRANCE DAY CEREMONIES

11 November 2012

Strictly Poppies
Come Dancing stars perform at the opening of Remembrance Field at Lydiard Park - GALLERY

09 November 2012

Swindon Bombing
70 years ago - 20 OCT 1940 - the day the Luftwaffe tragically started targeting Swindon...

A Bridge Too Far
75 YEARS ON: Swindon's connection to Operation Market Garden, the biggest airborne invasion ever mounted - September 1944...

Swindon on D-Day
D-Day: Swindon wakes up to the sound of history in the making...

The Yanks are Coming!...
Beer, Bicycles & Blackouts - Memories of the staff from the US Army's 203rd General Hospital reveal life in Swindon in the run-up to D-Day...

Alan Fowler
The true and tragic story of Swindon Town's Normandy hero revealed...

05 June 2009

What a find!
Swindon artist celebrated on The Antiques Roadshow...

24 March 2009

Chiseldon Camp
50 years on since the last soldiers left, we look back at the Swindon army base which helped win two world wars - and welcomed the first American GIs to Britain...

Life's Real Heroes
100 YEAR ANNIVERSARY: We pay tribute to Swindon's heroes of the Somme + EVENTS

Swindon and World War One
Lest We Forget 101 Years On: our 4-part chronicle of the role Swindon people played in the Great War #therebutnotthere

VE Day in Swindon
The greatest e-VE-r party. How Swindon celebrated the end of WW2 in Europe #VEDAY75