Falling From Trees
performance at Swindon Dance - TUESDAY 03 AUGUST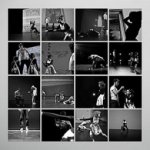 Fundraising dance performance at Swindon Dance.
Watch Neon Productions perform 'Falling From Trees' featuring original music by acclaimed composer Peter Broderick then enjoy drinks in the foyer to a DJ set by London's Rival Consoles.

'Highly articulate. an ambitious piece and powerful in its content' - Josephine Leask (Guardian)

'Concise and eerie, this is a poignant work' - Lauren Strain (Muso
Magazine)

Neon Productions is a cross media based dance company that creates work for the stage and screen.
Ticket: £10 / £5 (Cons)

For all ticket bookings please contact Swindon Dance on 01793 601700 or click on their website via the link below...
Day
Date
Time