Dorcan Leisure Centre & Netball Dome:


Outdoor facilities include a synthetic grass area for hockey and football and an indoor netball dome

Address: , St Paul's Drive, Swindon, Wiltshire, SN3 5BY
Phone: 01793 533763
Website: http://www.swindon.gov.uk...
Youngsters enjoy a day of sport in Swindon
Young people limber up for Youth Sport Festival
Former 400m relay world champion Derek Redmond was guest of honour at a sports day with a difference this weekend.
The former athlete was in Swindon for the South West StreetGames Festival & Parachallenge which saw local young people compete with others from across the region in a variety of sports.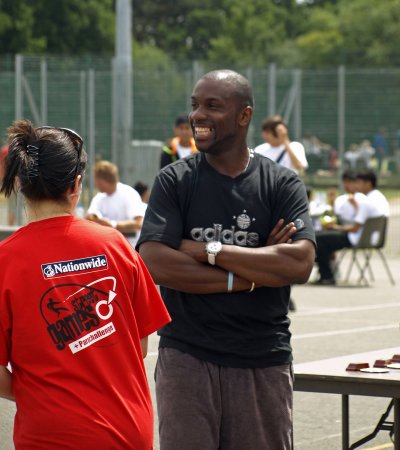 In support:
400m relay world champion Derek Redmond
The festival, which was sponsored by Nationwide and organised by Swindon Borough Council's Leisure Services and Youth Services teams in partnership with youth sport development charity StreetGames, is designed to give young people from disadvantaged communities the opportunity to experience the thrill of taking part in a major sporting event and also try sports they may not have tried before.
The festival saw competitive tournaments including football, netball and basketball, as well as Parachallenge events in Powerchair football and Ability Counts football.
Taster sessions were also on offer which are designed to encourage young people to explore different sport options will be available in archery, climbing, tennis, cycling, frisbee golf, power kiting and wheelchair basketball.
"We are really excited to be hosting this year's South West StreetGames festival and running it alongside the Parachallenge event," commented Doug Imrie, Coaching Co-ordinator for Swindon Borough Council's Leisure Services Team.
"The day has been a bumper sports event that really does live up to the belief that sport should be accessible to all young people, regardless of physical ability or how much money they have in their pockets. We've had such a wide variety of sports on offer. I'm sure it will have a lasting effect on the young people who have taken part."
Street Games and Parachallenge picture gallery

Regional Games 2010 - 05/07/2010
Sprint-astic
Hundreds turn out for Street Athletics and to meet Linford Christie and Darren Campbell...