Dorcan Leisure Centre & Netball Dome:


Outdoor facilities include a synthetic grass area for hockey and football and an indoor netball dome

Address: , St Paul's Drive, Swindon, Wiltshire, SN3 5BY
Phone: 01793 533763
Website: http://www.swindon.gov.uk...
North Wilts Hockey Club Summer Event
Summer Six a side Event - 17 & 18 JULY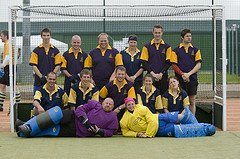 North Wilts Hockey Club will be holding their Summer Six a side Event at the Dorcan Leisure Centre, St Pauls Drive Swindon on Saturday and Sunday 17th and 18th July 2010.
Matches will start at 0900 am on both days. Refreshments will be on sale, spectators are very welcome to attend and savour festival Hockey.
Teams from all over the Country will be attending and participating in Ladies and Gentlemen's competitions Henry Dennett Trophy, Len Evans Vase. Ladies trophy and the Linden Schensell – Smith Trophy.
North Wilts are proud to announce that a mixture of two Teams from the English National Hockey League Eastern and Premier Division Barford Tigers and Indian Gymkhana will be attending and taking part in the men's senior Completion for the first time under the social name as the " Bacardi Bandits ".
During the Lunch intervals there will be a penalty stroke competition involving the Teams Goalkeepers and a social party in the evening.
On Sunday the club are pleased to be hosting the new Member of Parliament for Swindon North, Justin Tomlinson MP, who will be presenting the prizes to the winning teams at 4pm.
The club has obtained three new lady members and three juniors. North Wilts are still looking for new members from league playing age to join a now fast expanding club.
"We can offer good quality Hockey, active social programme and always make newcomers welcome," said Club Press Officer Steve Pratt.
For Further Details contact Steve Pratt 01793 855515 or on 07775897200. email
steve-52@live.co.uk
.
Day
Date
Time