Phone: 01793 511033
Website: http://www.swindon.gov.uk...
swindonweb.tv® bringing you all of our top stories on video
Children get active at Access Day
Community coaching day gets kids involved in athletics
Archery and cycling were just some of the activities on offer at a special event designed to encourage young people of all abilities to get active.
Qualified coaches were on hand at the County Ground Athletics Track to support youngsters in a whole variety of activities from dance to martial arts, while Swindon Town's Football in the Community team ran a variety of football sessions.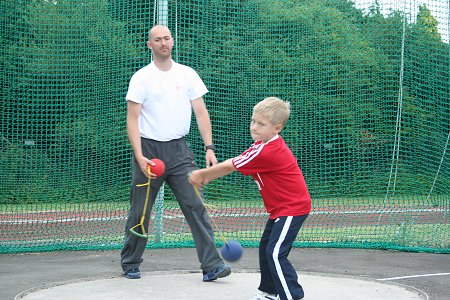 one of the activities on offer at the 2010 Access Day
The event organised by Swindon Borough Council's Leisure Services and Education Support Services and funded by the Swindon School Sports Partnership.
All special schools and children with visual or physical impairments from mainstream schools across the borough were invited to the free event.
Other activities on offer throughout the day also included basketball, golf, croquet, bowls and boccia. The activity extravaganza aimed to introduce children to new activities, which they may not have tried, or even heard of, before.
"The Access Days are extremely popular because there are so many different activities to try out and they cater for all abilities," said Cllr Fionuala Foley, Swindon Borough Council's Cabinet Member for Leisure and Corporate Services
"If young people find an activity they really enjoy there is plenty of information available for them to follow up their interest outside of the Access Day sessions."

Children get active at access day 2010 - 07/07/2010
Sprint-astic
Hundreds turn out for Street Athletics and to meet Linford Christie and Darren Campbell...