Fun at Lydiard Park
Children can start the summer holidays with some great outdoor fun at Lydiard Park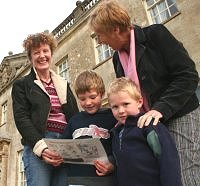 Children can start the summer holidays with some great outdoor fun at Lydiard Park next week.
The Swindon Borough Council-owned park is holding its Kids Love Lydiard Nature Play Trail on Wednesday, 28 July where children can have a go at woodland games, look for creepy crawlies in a bug hunt, make a tree spirit and explore the park for clues on the special nature play trail.
The trail and all the activities are free and children and their families are invited to come along to Lydiard Park between 12 noon to 3pm to collect their fun nature play trail from the tent near the café and visitor centre.
The trail takes the form of picture clues which point to locations in the park where hidden letters will solve a puzzle.
Along the way there will be four fun activities to enjoy for a great outdoor adventure.
Children must be accompanied by an adult during the trail.
Kids Love Lydiard Nature Play Trail is a Swindon Playbuilder Project and is organised by the Play Service, Parks & Green Spaces and Lydiard Park to celebrate national Love Parks Week, which takes place between Saturday, 24 July and Sunday, 1 August.
"The Kids Love Lydiard Nature Play Trail is a great opportunity for children to enjoy nature and have lots of fun," commented Cllr Keith Williams, Swindon Borough Council's Cabinet Member for Streetscene who also has responsibility for the town's parks.
"In the current financial climate, Swindon's play areas and our parks are more important than ever. They are free to visit and provide not only a venue for some active fun to improve health but also peaceful and tranquil spaces to relax and unwind."
Day
Date
Time