Liquid and Envy - NOW CLOSED:


This venue is NOW CLOSED.

Address: 1 Havelock Square, Swindon, SN1 1LE
Phone: 01793 531384
Website: http://www.liquidclubs.co...
Semi Pro Fight Night
Sean Mulvihill crowned Heavyweight champion of the Neilson Promotions fight night
A major trophy was up for grabs at the Neilson Promotions Semi Pro Fight Night this weekend.
Sean Mulvihill walked away with the main prize after knocking Denis 'The Menace' Jones down in round one of the Neilson Promotions heavyweight championship title.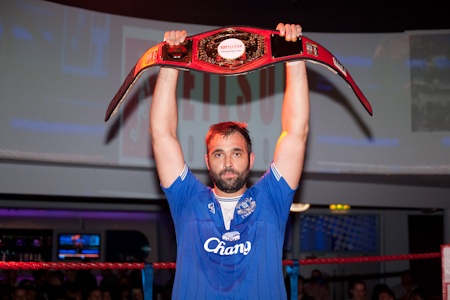 11 other fights took place results below:
Middle: Dan Blackwell Bt Phil Bryan RSC3

Super Middle: Rich Hall Bt James Fisher Pts

Heavy: Mark McGarry Bt Phil Williamson RSC3

Light Middle: Sam Lee Bt Alex Kingsbury RSC1

Light Middle: Hurvin Morgan (Kid Sylvester) Bt Steve Galloway Pts

Middle: James Higgy Bt Dan Phelps Pts

Heavy: Jake Bonner Bt Dean Mayo Pts

Heavy: Darren Payne Bt Wayne Kemble Pts

Cruiser: Kev Dawson Bt Paddy Teehan Pts

Cruiser:
Jon Lane Bt Jamie Horn Pts

Heavy: Sean Mulvihill
Bt Dennis Jones RSC1

Boxing at Liquid and Envy Picture Gallery

Semi pro fight night - 13 September 2010 - 13/09/2010

Semi pro fight night - 13 September 2010 - gallery 2 - 13/09/2010
George Groves in Swindon
World Title Contender packs a punch at The Sun in aid of Sebastian Murtough - PHOTOS + SWTV INTERVIEW

01 March 2014

Ready To Rumble!
Cox & Royer come face-to-face ahead of this weekend's big Oasis clash...

14 June 2013

Cox Comeback
Swindon boxer ready for ring return at Oasis on 15 JUNE - SWTV INTERVIEW + PRESS CONFERENCE

12 April 2013

Ant & Dec-ked!
TV stars and former world-champs enjoy white collar boxing at MECA - SEE GALLERY

03 May 2012

Bam Bam v The Menace
Swindon grudge fight tops the bill at white collar boxing at MECA - WIN VIP TICKETS

Festive Knockout!
Boxing day comes early at MECA Swindon - REPORT & GALLERY...

17 December 2011

Title Fight Tops Bill
Wiltshire boxer Nick Blackwell defends his English middleweight belt at M.E.C.A - 05 MARCH...

17 January 2011

Go on, give it some!
White collar fight night at Liquid & Envy in Swindon - SEE GALLERY...

07 April 2010

Knock-out success
White Collar Boxing evening raises money for charity...

19 October 2009

Knock-out success
White Collar Boxing evening raises money for charity...

19 October 2009

Fancy some?
We grab a word with boxing legend Nigel Benn in Swindon on fights - and faith.... watch interview...

Ready to rumble
We interview Jamie Cox and Marlon Reid before tomorrow's fight at the Oasis...

Packing a punch
Legendary heavyweights reunite at Swindon sporting dinner...

Boxing Legends Sporting Dinner
3 course meal, auction and raffle. with Joe Eagen (Mike Tyson's sparring partner) and local Swindon CHampions: Ricky Porter + Eddie Neilson + Peter Neal + Jamie Cox + Paul Rogers + Cliff Curtis. Please contact venue for more information and to book your tickets.

29 January 2008