Non-profit organisation devoted to translating, publishing, distributing the Bible.

Address: Stonehill Green, Swindon, SN5 7DG
Phone: 01793 418100
Website: http://www.biblesociety.o...
Blood Donating Session - Westlea
There are two sessions for this date -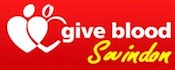 1.15pm - 4.00pm
4.45pm - 7.30pm
To book an appointment please visit the National Blood Service website, or call 0300 123 23 23.
Please encourage your friends to come along.
New donors are always welcome.
Day
Date
Time